Livestock training an asset for youth development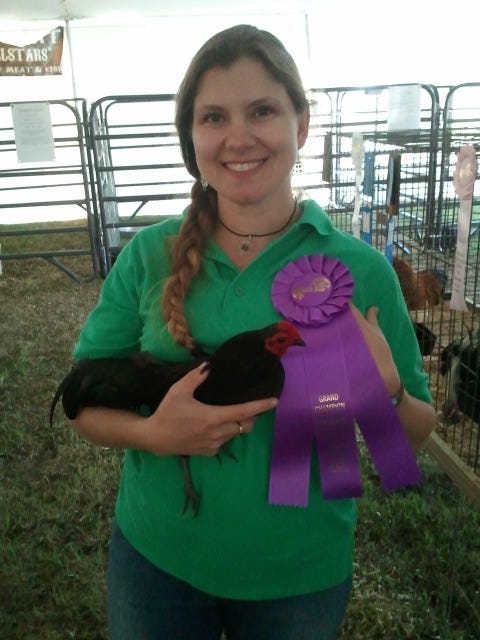 Last month, I was humbled to be recognized as the Community Leader of the Year by the Santa Rosa County Chamber of Commerce.  Many people may not know; it was a surprise.  I was called and asked to speak at the banquet.  This was their way to get me there.  I had a prior engagement with the youth in 4-H District 1, but I was able to slip out of one event early and arrive at the Chamber of Commerce banquet a little late, yet still in time to give the speech. Unbeknownst to me, I would not get a chance to give my speech.  Though the experience was memorable experience, it is a message I want to share.
I was asked to speak on  the importance for youth to raise livestock.  While I was preparing for the event, I looked to the life skills wheel.  This is a wheel which helps 4-H Extension Agents and volunteers create programs or projects allowing youth to gain specific life skills. We hope to educate youth in the following main areas: caring, giving, relating, working, being, living, thinking, and managing.  Very few projects are able to hit all sections of the life skills wheel, but a youth raising livestock is able to experience and build on all of them. 
Caring for livestock allows youth to learn empathy and sharing.  Giving aid to an animal in need and having the ability to relate to the animal in their care is a skill which will allow youth to learn and grow in many ways.  Youths laboring to clean their animals' cages and gaining self-esteem through hard work is not something one can learn in a classroom.  4-H stresses our youth to "learn by doing" and livestock projects are one of the best ways to learn by doing lots of hard work. 
Responsibility is gained by making the decision to get out of the warm house early each morning and head out to the hog pen to feed the animals.  In this digital age, it is imperative our youth learn excellent communication skills.  During a livestock project, youth learning to communicate with a potential sponsor, donor, or buyer is vital. Students hone their written and verbal communication skills during the project.  Raising a steer, rabbit, goat, or hog is an excellent way to allow for the youth to learn and grow in many ways.  Problem solving, service, planning, goal setting, marketing and character building are all assets bound to grow during the time a youth is raising a livestock project animal.  
Many aspects of a livestock project provide youth with opportunities to grow and learn, but they often need help. If you are approached by one of our outstanding youth about supporting their livestock projects, please allow these children to continue to grow by assisting them in any way you can.  Also, mark your calendars for Saturday, April 9.  The future of Santa RosaCounty will be showcasing livestock projects, and you will not want to miss this!  If you have questions about 4-H or wish to sponsor or support the livestock programs in Santa RosaCounty, please contact Prudence Caskey at prudencecaskey@ufl.edu or at 623-3868.
This article originally appeared on Santa Rosa Press Gazette: Livestock training an asset for youth development