Woman reflects on turning 104 while staying with Pace family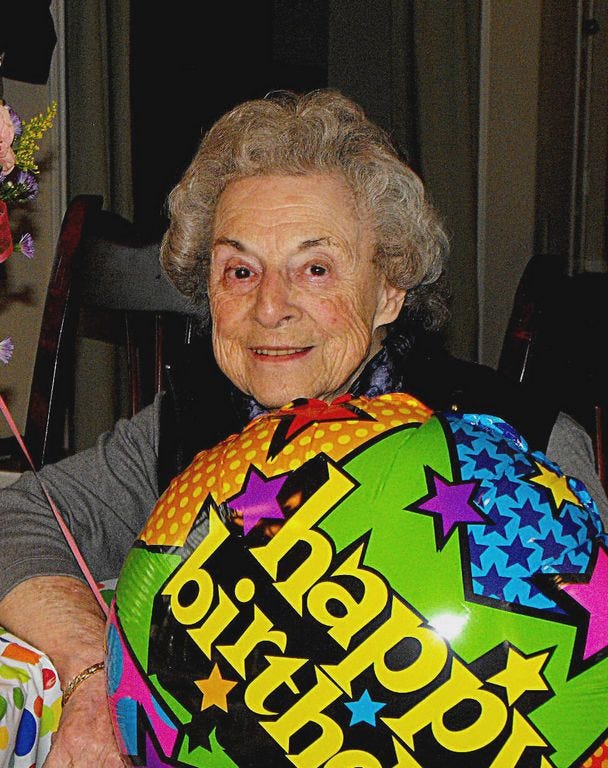 While staying with family in Pace, Frances Choquette Wilson recently celebrated her 104th birthday over the holiday season. In addition to having five children and 15 grandchildren, she has 27 great grandchildren, 24 great-great grandchildren and a sixth generation great-great-great grandchild due next month.
Wilson was born on December 24, 1911 in Providence, Rhode Island.  While working in Rhode Island, Frances would meet Harvey Wilson, who stationed in the area with the U.S. Navy.
"I met him there at a dance," Wilson said. "We kind of hit it off. So three years later after his hitch was up, he came to Rhode Island from Texas and we got married."
 Wilson then left Rhode Island and moved to Irving, Texas where she would call home with Harvey and rear their family. Since her husband died in 1988, she said has done some traveling in order to keep in touch with her extensive family, which are located throughout the country, including New Jersey, Texas and in the Florida Panhandle.
As one could imagine, Wilson has seen a lot change in her lifetime, especially after working telephone operator for 17 years in Rhode Island. Now, she regularly uses Skype to communicate with family who are out of state.
"It does amaze me," she said. "That we can sit here and talk to someone in New Jersey like they are in the room with us."
Wilson said she comes from the "horse and buggy days," adding she can remember when ice was regularly delivered to a house, experiencing television for the first time and even taking a ride her father's first ever automobile.  
Diane Bauer, who lives in Pace with her husband Jim, said she enjoys having her mother live with her. Taking care of her mother is also an educational experience, she said.
"We will be doing nothing and somehow a topic will come up and I learn more about the family," Bauer said. "It is just great listening to her reminisce…and it is just nice having her around."
Whether it's friends or family, Wilson said one question continually comes up in conversation.
"Everyone who comes around me wants to know my secret," Wilson said.
When asked about her response to the question, she said she has great family genes, including her mother Sarah Nelson who operated with the Nelson Circus.
"She raised us pretty good," Wilson said. "She made all of us toe the line."
Wilson added she applied the same concept when rearing her family, she also said the secret to longevity lies in avoiding an unhealthy lifestyle.
"If you want a secret, I never smoked and never drank," she said. "I tell myself, I didn't have much fun did I?"
However, Wilson did have fun in other ways, including square dancing and bowling. At one point, Wilson said she was involved in three different bowling leagues.
Diane said her mother was active in both activities until her 60's.
 While Wilson may not be able to move around like she used to, she is very happy to see how her family has flourished over the years.
 "I have five children and they are all living, and their spouses are all living, and I think that is a great achievement," she said.
This article originally appeared on Santa Rosa Press Gazette: Woman reflects on turning 104 while staying with Pace family