West Florida Hospital joins United Way of SRC for Pacesetter campaign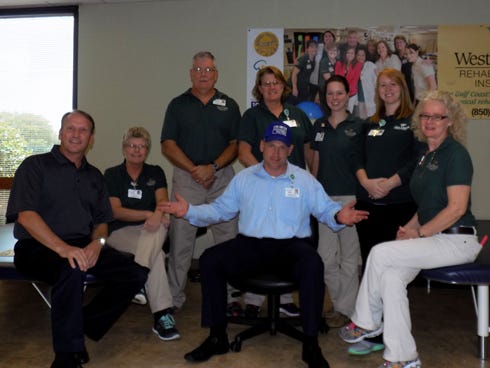 Although West Florida Hospital has previously collaborated with the United Way of Santa Rosa County, the Pensacola-based hospital will join several companies in fundraising efforts for the local United Way organization.
"We are so excited for them in committing to help both United Way in Escambia County and Santa Rosa County to lift up the Pacesetter campaign," said Kyle Holley, director of development for the United Way of SRC. "They see the magnitude of need in both counties, but they also see significance in the United Way model for community change."
Kendrick Doidge, vice president of business and public relations for West Florida, plans to use this opportunity to lead by example.
"If we can do it with 1,500 employees then other companies can put something together as well," Doidge said.
West Florida Hospital is joining a campaign which is already receiving support from Publix, Target Corporation, Gulf Power, Regions Bank and Geo Group. 
 Holley said the campaign, which begins July 1 and runs through September 30, allows these companies to fundraise for the United Way internally, whether employees chose to donate via a small percentage from the pay check or through volunteerism.  
"The Pacesetter campaign is when we have those companies who are most committed to the goals of the United Way (allowing) them to chime in and run their internal fundraising campaigns for the benefit of the United Way," Holley said.    
  The United Way of SRC focuses on addressing the educational, health and income instability by partnering with several local organizations to help fulfill a need in the community.
As an example, the United Way partners with Sandy Sansing Car dealership and WEAR TV (Channel Three) for the annual 'Cram the Van' campaign which according to Holley makes a significant donation to families in help of preparing their children for school.
"(They) have close to a $60,000 impact each year with regard to the school supplies being distributed to folks (in need)," Holley said.   
 This year's theme of the pacesetter campaign is 'Give where you live,' Anja Machado, the United Way of SRC's director of marketing and communication, said interested donators should make sure to select their local United Way in order to make sure their donation impacts on a local level.
"If you don't designate to give where you live," Machado said. "You are not actually funding the agencies and organizations that help you in your community." 
Holley said the campaign goal for this year is $400,000. Holley wants to invite interested companies and businesses in taking part in the pacesetter campaign.
"All companies of all sizes are welcome to share the message of United Way with their employees," he said. "There is plenty of time to participate."
ONLINE: For more information on the United Way's pacesetter campaign and the organization itself, visit their website at www.unitedwaysrc.org or call the office at 623-4507.
This article originally appeared on Santa Rosa Press Gazette: West Florida Hospital joins United Way of SRC for Pacesetter campaign