'We thank God': Milton micro-preemie defies odds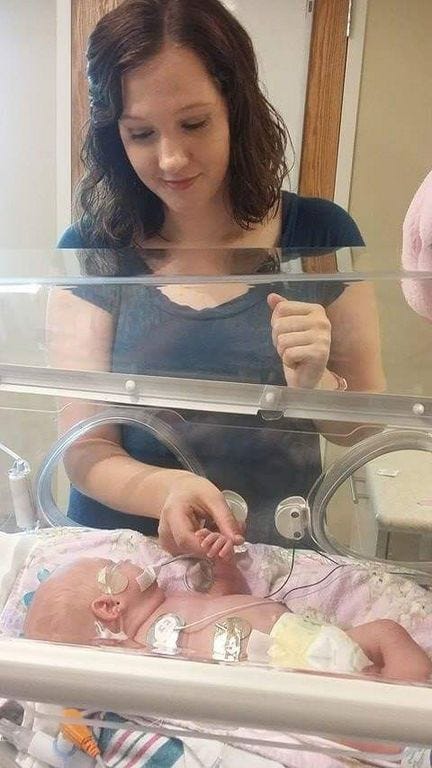 PENSACOLA — Baby Thea Black came into the world March 23 at Sacred Heart Medical Hospital at 25 weeks gestation, just under 2 pounds. Her mother, Britney Black, said Thea has defied all odds and doctors' predictions. She's a survivor.
Black said a blood clot disorder made her pregnancy high risk and placenta previa bleeding episodes sent her to the emergency room at least eight or nine times. "Placenta previa  occurs when a baby's placenta partially or totally covers the opening in the mother's cervix, (which) can cause severe bleeding before or during delivery," the Mayo Clinic's website states.
Black has two children from a previous marriage, but would have had a third had it survived being born at 17 weeks early in 2014. That was when she learned about her blood clot disorder, she said.
As for Thea, so far, so good. She is close to being able to eat as much as she needs to in a day, Black said — she's on six bottles out of eight right now. The only health issue, otherwise, she said, is Thea being on oxygen. She could go home on O2.
Soon after Thea was born, the family moved into the Ronald McDonald House.
The RMH staff "was very friendly. It was a really good place. They covered everything, pretty much, so we didn't have to stress and worry about eating," Black said.
They stayed about a month and a half. But the experience "took a toll on the two toddlers," Black said, so they moved back home.
"We thank God, first," Black said. "He has brought us through what doctors deemed impossible. They told me I wouldn't make it to 23 weeks and we made it to 25. She's beat all odds of a micro preemie. Our entire family — parents, grandmothers, siblings — they've all been so supportive and loving through our journey.
The medical bills have been challenging, Black said. But a Facebook page, "Thea Ruth Black born at 25 weeks gestation," is only for prayers, she said.
"That's what's gotten us this far: our faith in God, our family and friends," she said.
"People from around the world are praying for our little miracle, that's amazing and mind blowing — how God can use one little micro-preemie to cause people from all around to pull together and believe."
—
FOLLOW BABY THEA'S PROGRESS
See the Facebook page, "Thea Ruth Black born at 25 weeks gestation," at http://bit.ly/25sUuKB, to track Baby Thea's progress
This article originally appeared on Santa Rosa Press Gazette: 'We thank God': Milton micro-preemie defies odds