Venue change for Creek Pow Wow coming in 2016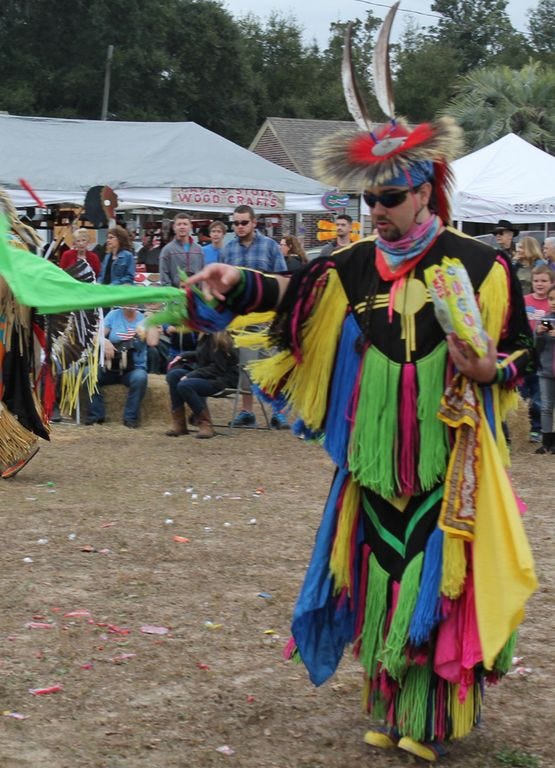 This weekend, the Santa Rosa Creek Indian Tribe celebrates its 25th Annual Pow Wow celebration  at Floridatown Park. Vice Chief Lloyd Hinote said the quarter century year is significant as it's the last year the tribe will hold a pow wow at the location since the tribe's land, purchased in 2004, will be ready to serve as the pow wow's continued venue next year.
As published in October last year, the nonprofit organization, Pensacola Bay Area Impact 100, announced the Santa Rosa County Creek Indian Tribe, Inc as one of ten $102,500 winners of its 2014 grants. The grant went toward the infrastructure necessary to hold future pow wows on the tribe's land.
This weekend's celebration, as those in years past, will feature traditional Santa Rosa Creek Indian drumming, song, and dance by The Drums of the Descendents, head male and female dancers Bobby and Sandy DuBose, and the Muscogee Creek-Cherokee Dancers.
For sale will also be traditional Native American crafts and food. Hinote said the tribe allows only authentic Native American items to be sold at pow wows. Rounding out the event will be Native American heritage displays and storytelling.
What: 25th annual Santa Rosa Creek Indian Tribe Pow Wow

When: November 21 and 22 from 9 a.m. to 5 p.m. both days

Where: for the last year, at Floridatown Park

Cost: Free Admission
WANT TO GO?
32990810007
This article originally appeared on Santa Rosa Press Gazette: Venue change for Creek Pow Wow coming in 2016