Training is continuous for SRSO K9 units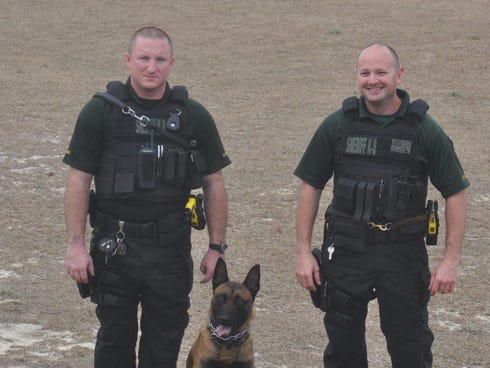 Since the end of this past summer, the Santa Rosa County Sheriff's Office has benefited from having two additional K-9 units as part of the law enforcement agency. In late August, the department received two newly trained police dog's, Rogue and  Zurki.   
The unit, which consists of six total units featuring a trained deputy and K-9, assist on calls in which the deputies utilize the trained K-9's to detect narcotics, building searches and track fleeing suspects, said Sergeant Roman Jackson.  Although the deputies and their four-legged partners must initially undergo a 480-hour basic K-9 handlers course through the Florida Department of Law Enforcement, the training does not stop after the partnered unit begin patrolling.
   "The training is continuous, it never stops," Jackson said. "They do 40 hours of maintenance training a month."
 In addition to undergoing ten hours of training each Monday, the K-9 units also have the opportunity to undergo additional training classes to further their development in tactical scenarios, tracking, etc.
The K-9's also bond with the deputies while off duty.
"We try to let them live a very normal life," Jackson said. "At work, we put them through their highest level to use them every day, so at home we usually allow them to chill out."
  Deputy Jeff Perkins, who started with the K-9 unit in October, is partnered with Rogue.  Since joining the unit, Perkins said he has relied upon the insight from the other deputies in the unit.
"It's a lot to take on at first," Perkins said. "We kind of all watch each other's dogs as far as we can to make sure we are all doing the right things."
 Perkins said being able to take his partner home helps with the bonding process.
"It's wonderful to be able to bond with the dog 24/7," he said. "He is around my family and I have a small kid and they love each other."
 In addition to being used in multiple scenarios, the highly trained Belgian Malinois dog breed, are also used for community events.
"They do a lot of public relations as well, it's not all police work," Jackson said. "Citizens like to see the dogs and we like to let them see them."
This article originally appeared on Santa Rosa Press Gazette: Training is continuous for SRSO K9 units