This week at Storytime at Barnes & Noble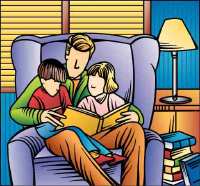 Every Wednesday, and Saturday morning at 11:00 a.m., and other special days, Barnes & Noble hosts a free storytime designed for children ages two through seven. Everyone is welcome to join as we sing, dance, read stories and do arts and crafts.  Watch the calendar for special storytimes, which can include pajama days, dress-up storytimes, and visits from our favorite storybook characters.
Upcoming stories include:
July 4th Special Storytime at 10 a.m.: "Magic Tree House – Dinosaurs Before Dark" – Welcome, young dinosaur hunters! At this dig site, fun will never go extinct with activities, giveaways and a special offer.
July 8th: "Joker's Joyride" – Come out and enjoy DC Comics' Days with Joker's Joyride. What happens when the Joker steals the Batmobile and takes it for a crazy ride.
July 11th: "Super Hero Dressup Storytime: Heroes United"- Join Superman, Batman, The Flash and all the DC Super Friends as they battle an evil robot and use teamwork to save the day! Come dress in your favorite superhero outfit to help save the day.
For more information, call Barnes & Noble at 969-9554.
This article originally appeared on Santa Rosa Press Gazette: This week at Storytime at Barnes & Noble