The Santa Rosa County Fair 2013 is just around the corner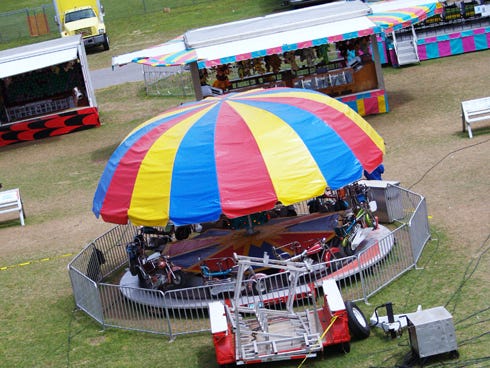 The Santa Rosa County Fair is right around the corner and approaching fast. Lots of great quality fun is coming this year, the livestock exhibit and shows are growing bigger and better, the Pro-Rodeo has moved to the first weekend so Friday opening night kicks off with the Rodeo with cowboys and cowgirls coming from all over to compete for the prize money and put on a great show.
Opening night is also the first ever midnight madness to happen at the fair, the main stage has risen to the challenge, Firing up at 5:15 with Burning Fern and headlining RED Jumpsuit Apparatus and ending with a "Dub step Dance Party" with the DJ " Ka Boom" at 12:15 a.m. Saturday is Country music on the gulf coast at its finest, starting when the gates open at 12  with "Willing to Dream", Shelbly Sanders, Jarrett Crockett, The Chris Martin Band, the Riviera Band, Dusty Sanderson band and Brooke Woods. 
The following Friday, on April 12, SRC Fair welcomes hip-hop star D.J. Unk.  He'll take stage at 10:45 p.m. and will be performing his well-known hits "Walk It Out", "2 Step", and more. 
Make sure to be there early in the evening at 6 p.m. for a special performance by R&B artist, Geoff McBride. Geoff was most recently noted for his appearance NBC's hit television show, 'The Voice' and you may recognize his 1990 hit "No Sweeter Love".  Local acts performing alongside them will be: Feel Good, DeeVillian, The Real Hooks, and Jessica Shumate. 
For the Classic Rock fans, we'll be wrapping up the 2013 Santa Rosa County Fair with "Don't Stop Believin" The Journey Tribute.  Also performing will be local acts: Chloe Channell, Robert Wayne Walkup, Chasing Fridays, Stephanie Leavins, and more. 
There is a lot of great quality entertainment throughout the week, so please check the schedule for other top local names.
We have top quality shows for all our patrons to enjoy, The FMX freestyle motocross show, Racing Pigs, NBHA Barrel races, the Open Pro Rodeo, youth livestock shows, and a collection of exhibits and demonstrations from all parts of Santa Rosa County in a clean, fun environment.
The last couple of years have been rough on the economy and although getting better, it is not quite back to strength quite yet. The Fair Board has considered that and tried to balance the financial needs of the fair and still be as affordable as possible for all our patrons.  We have reduced the ticket prices every day, in addition we have made Wednesday and Thursday dollar days at the fair. 
So whether it is Rides, shows exhibits, animals, art work or kids, there is something for you to enjoy. Come out and see your friends at the Santa Rosa County fair April 5, 6, and 7 and 10th- 13th!  The volunteers and animals needed some time off so we are closed Monday and Tuesday.   See you at the Fair!  Website: www.srcfair.com.
This article originally appeared on Santa Rosa Press Gazette: The Santa Rosa County Fair 2013 is just around the corner