Take a Bite Out of Hunger peanut butter drive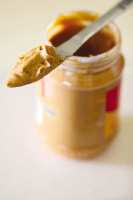 Help local food pantries in Santa Rosa County by joining Santa Rosa County Extension along with University of Florida Institute of Food & Agricultural Sciences and the Florida Peanut Producer Association to help take a bite out of hunger during the local peanut butter drive. The average child will eat 1,500 peanut butter and jelly sandwiches before he or she graduates high school. Keep children eating locally grown peanuts in healthy, nutritious and yummy peanut butter.
All peanut butter collected will be donated to a local food pantry during Farm-City Week. To participate, bring unopened jars of peanut butter to any of the following drop off sites in the county now through Nov. 21:
•         Santa Rosa County Extension Office at 6263 Dogwood Dr., Milton, FL 32570
•         Jay Extension Office at 5259 Booker Lane, Jay, FL 32565
•         South Santa Rosa Service Center, Master Gardener Help Desk at 5819 Gulf Breeze           Parkway, Gulf Breeze
•         All Santa Rosa County Library locations
•         Lowe's Stores in Pace and Gulf Breeze
With the efforts of local community members, organizations, 4-H clubs, schools and local government offices, in 2013 the district wide peanut drive collected 2,039 jars of peanut butter. The Florida Peanut Producers Association also took part and donated a pallet of 1,400 jars of peanut butter to be distributed.
For more information, contact Mary Derrick at maryd@santarosa.fl.gov or Chris Verlinde at christinav@santarosa.fl.gov or call the office at 623-3868.
This article originally appeared on Santa Rosa Press Gazette: Take a Bite Out of Hunger peanut butter drive