Soulmate Central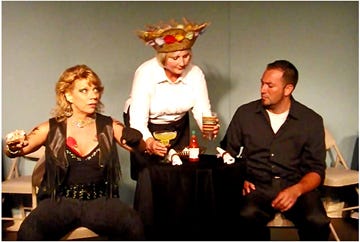 Panhandle Community Theatre presents:
Soulmate Central
Written by Rick Ready
The owner of a dating service wears an ankle monitor and is on parole. He hires two women, one a former stripper, the other lonely and pessimistic. When a good-looking prospect comes to do an interview, the negative Moira is struck by him, but office policy does not allow dating clients. So, she sets him up with multiple "problem and/or freak" clients such as a holy roller, a biker chick, and a stalker. Other whack characters intermingle the storyline as the laughs are non-stop within hysterical wit. 
Note: This show contains adult subject matter which may not be suited for children. No one under the age of 13 will be admitted.
Directed by Joe Perna
Assistant Director Bonnie Marks
July 24-27
Evenings 7:30 pm, Sunday matinee 2:30 pm
Woodbine Theatre
4646 Woodbine Road – Pace (Storage Masters Center)
For reservations call 850-221-7599
or email:  panhandle_community_theatre@yahoo.com
Seats are limited each show
Adults $12
Special Low-Dough Shows: Thursdays (July 24 only): Adults $9
Cast:
Nick Rogers – Steve Rusk
Moira Frasier – Heather Decker
Harry Canada – Ken Armitage
Holly Honey – Clarissa Canzoniero
Charlie Frasier – Carlos Rivera
Mary Beth Morris – Jennifer Chepan
Flower Garden – Hope Ozimek
Elanine Sealock – Danielle Siler
Server #1 – Joseph George
Server #2 – Suzanne Haarala
This article originally appeared on Santa Rosa Press Gazette: Soulmate Central