Sonshine honors first responders, child advocates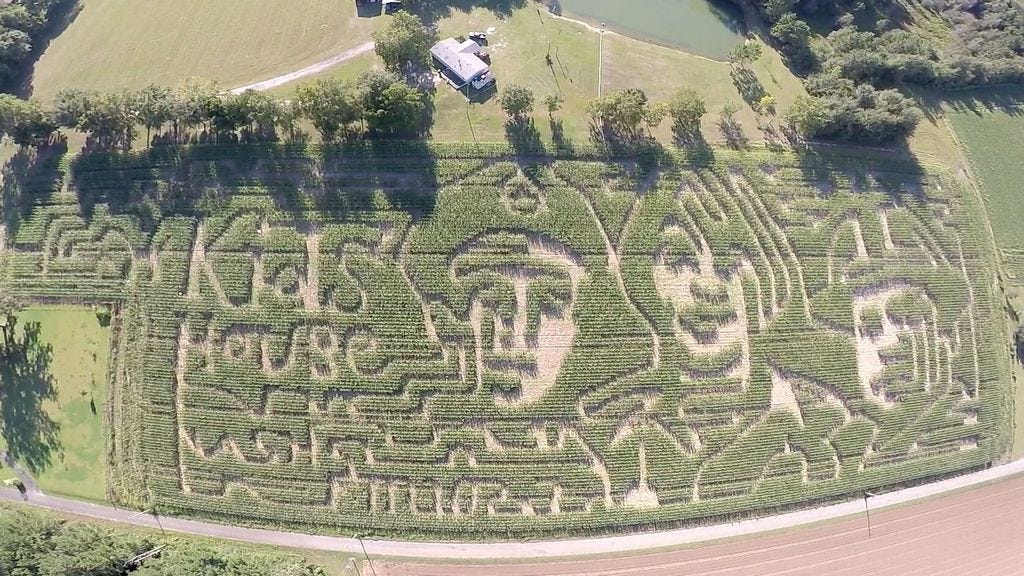 For the first time, Sonshine Family Farms joins the Beaches to Woodlands Tour opening this Saturday at 9 a.m. The farm features a pair of corn mazes, one for children and one for adults with games within the maze to complete along the way. The maze theme is "A Tribute to First Responders" and partial proceeds from the event will be donated to the Santa Rosa Kid's House (SRKH), according to Sonshine owner, Vernon Borders.
Borders said he chose first responders for the theme this year out of respect and because he has family who are deputies and work for 911 dispatch. However, he said he was not familiar with the SRKH until he competed in a tournament benefiting the organization 18 months ago. "Anything to help kids," he said. Last year's theme, he noted, was a map of the United States and all five branches of the military the year before.
Getting out of the maze is not the only objective, if people so choose, according to Borders. Both the youth maze and the adult maze have games to complete along the way. The youth maze has five stations with colored chalk to find and apply to the tip of a finger. At the end of the maze, walkers will find a chart with all 120 possible combinations of colored chalk on one hand. The number then corresponds to a silly activity such as howling at the moon or crowing like a rooster.
The adult maze features both a word puzzle and a crayon rubbing puzzle. The player's guide has a list of 18 blanks next to clues corresponding to stations in the maze with information pertaining to the words. The picture-find game has nine squares with a phrase in each relating to first responders. Borders said when players find the right picture, they can place the guide over the raised symbol, then rub the crayon over top to reveal the image.
Borders said during the tour he will have various events going on, such as offering flashlights for walking the maze at night, discount days like bringing a can of food for 'Feed the Hungry day,'  and a live band for Halloween. Rounding out the experience, the farm has colorful playground equipment, a small zip line, and a barrel train.
Sonshine Family Farms is located at 6270 Oglesby Road in Milton. For details, contact Borders at Vernon Borders, 418-5897 or email at gogators0109@yahoo.com.
This article originally appeared on Santa Rosa Press Gazette: Sonshine honors first responders, child advocates