Sentinel in the Sand – Civil War comes to Ship Island, a Living History Event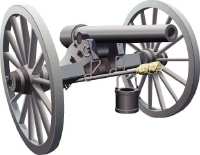 On April 11, 2015, Gulf Islands National Seashore in partnership with Ship Island Excursions will host a living history event featuring the lives of Union and Confederate Soldiers stationed and imprisoned at Ship Island. The event will take place on West Ship Island, MS with presentations and interactive stations throughout Fort Massachusetts. The event provides a rare opportunity to experience the fort as it might have been during the Civil War. Visitors will be invited to explore a living history encampment, courtesy of volunteer re-enactors with Company C, 3rd U.S. Infantry (1860-1865), Fort Walton Beach, FL. Rangers and park volunteers will be in period appropriate attire and will be around the fort answering visitor questions and providing information about Ship Island during the Civil War. Ship Island Excursions will offer an event discounted ticket rate –available online only. The special ticket rate will be offered at $15 per person and can be purchased at http://www.louisiananativeguard.com/.  Ship Island Excursions will run boats to West Ship Island at 9:00 am and at 12:00 pm. For more information on the ferry service call (228) 864-1014.
Dress appropriately for the weather and wear comfortable walking shoes.
Superintendent Brown encourages everyone to enjoy the national seashore and join us for the event and ranger-led programs. A schedule of events has been attached to this press release. For more information, call 228-230-4100, visit our website at www.nps.gov/guis, or like us on Facebook: www.facebook.com/GulfIslandsNPS   
This article originally appeared on Santa Rosa Press Gazette: Sentinel in the Sand – Civil War comes to Ship Island, a Living History Event