Santa Rosa County offers options for photography enthusiasts (PHOTOS)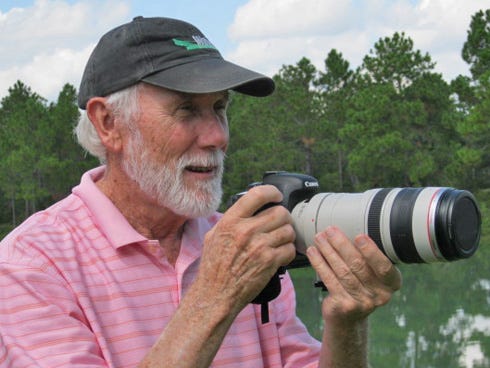 For those living in Santa Rosa County and have a passion or slight interest into photography, there are resources of note currently ongoing within the county. First the Dragonfly art gallery is in the midst of showing local talent with the 'Through the Lens' photography show and Christian Life Church in Milton offers a free photo club for enthusiasts  to the community. 
Click Here: For photos of the 'Through the Lens' photography exhibit at the Dragonfly Gallery in Milton
The photography show at the Dragonfly is currently featured at the local art gallery until July 6th. The exhibit features photography pieces from Marci Hickman, Darliene Stanhope and Frank Harwood.
Since retiring from the civil service in 2005, Harwood said he tries to find the time to take up photography in between maintaining websites and volunteering at church. On occasion, Harwood and his wife, Sandi Lang, will take trips to nature reserves or state parks, which is where he will put his camera to work.
"I mainly do nature and wildlife…I also specialize in panoramas," he said.
In addition to maintaining his own photography website, www.FranklinHarwoodPhotography.com, Harwood also regularly submits his work on a online Florida nature and wildlife photography forum.
Fellow Milton resident, Darliene Stanhope has enjoyed photography since an early age and continues to show a passion for the hobby to this very day.
"I carry a camera on me at all times," Stanhope said.
Outside of her career as a community planner for the county, Stanhope occupies her free time through photography, whether  it's offering her services to friends and family, taking courses or just taking the occasional trip with her camera on her own.
Like Harwood, Stanhope enjoys taking photos while out amongst nature, especially when taking trips to the beach, river or even cloud formations.
For those interested in photography, Stanhope suggests practice and don't be afraid to try something new.
"If you see something that you think would make a great picture, take it," Stanhope said.
While there are other areas of photography, Stanhope would like to explore. Stanhope said it would be nice to have local photography available in the area. Stanhope said she previously traveled to take weekend classes in Pine Mountain, Georgia.
One local club offering insight for local photography enthusiasts is the Christian Life Church Photo Club. Although the club's title and regular meeting location is at the church,  Brian Bates, the club's co-facilitator, said the club is open to the community.
"It is open to anyone with a curiosity for photography," Bates said.
The club meets twice month on the first and third Tuesdays at 7 p..m. Currently the club, which regularly has between five to six members, will also watch insightful photography videos from National Geographic. 
Bates encourages like minded enthusiasts to visit in order to share their insight in the hobby.
Bates believes the local club is one of the closer photography clubs available in Santa Rosa as similar clubs are located in Escambia and Okaloosa Counties.
Want to go?
What:  Photo Club at Christian Life Church
When: 7 p.m.  on the first and third Tuesdays of each month
Where: Room A3 at the Christian Life Church in Milton at 4401 Avalon Boulevard
Cost: free to attend
Info: For more information on the photo club, contact Brian Bates at batesbe@gmail.com
ONLINE
For more information on the 'Through the Lens' Photography exhibit and the upcoming reception, visit the Dragonfly Gallery website at www.dragonflygallery.org.
This article originally appeared on Santa Rosa Press Gazette: Santa Rosa County offers options for photography enthusiasts (PHOTOS)