Santa Rosa County Drive Through Rabies Vaccination Clinic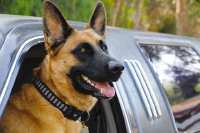 The Florida Department of Health in Santa Rosa County (DOH-Santa Rosa) and Santa Rosa Animal Control will host a drive-through rabies vaccination clinic for dogs and cats, Friday, October 23.  The clinic will take place from 4 p.m. to 6 p.m. at the Animal Services facility, 4451 Pine Forest Road in Milton. Local veterinarians have volunteered to provide the vaccine and administer the injections for a $10 fee.  Cash and checks will be accepted.  A valid driver's license will be required for all checks.  A certificate of vaccination and rabies tag will be provided.  No other services will be available.  Pets must be secured in a vehicle, crate or on leash.
The Department of Health advises the public to take these precautions to avoid exposing themselves or their pets to rabies:
·         Avoid all contact with wild and unfamiliar domesticated animals, both adult and young.  Never attempt to pick up or pet a wild or unfamiliar animal.
·         Do not place feeders in the yard – food will attract unwanted animals such as raccoons and foxes.
·         Do not leave pets outside unsupervised.
·         Bring in pet food at night and secure trash cans with fasteners.
·         Cover bird feeders.  Most squirrel-proof coverings also deter wild animals.
·         Children should never chase or attempt to catch or touch a wild or unfamiliar animal, and should tell an adult if a wild or strange animal tries to approach them.
·         Vaccinate pets against rabies and keep their vaccinations up to date.  Follow your veterinarian's recommendation for revaccination.
If bitten or scratched by a wild animal, or stray domesticated animal, wash the wound immediately with soap and water.  This is the first line of defense against rabies!  Seek medical attention immediately and report the incident to Santa Rosa Animal Control at 983-5680, or the Florida Department of Health in Santa RosaCounty at 983-5200.
For more information on the drive-through clinic, contact Mary Beverly, epidemiologist with DOH-Santa Rosa at 983-5200.
This article originally appeared on Santa Rosa Press Gazette: Santa Rosa County Drive Through Rabies Vaccination Clinic