Rolling Restaurants in Santa Rosa County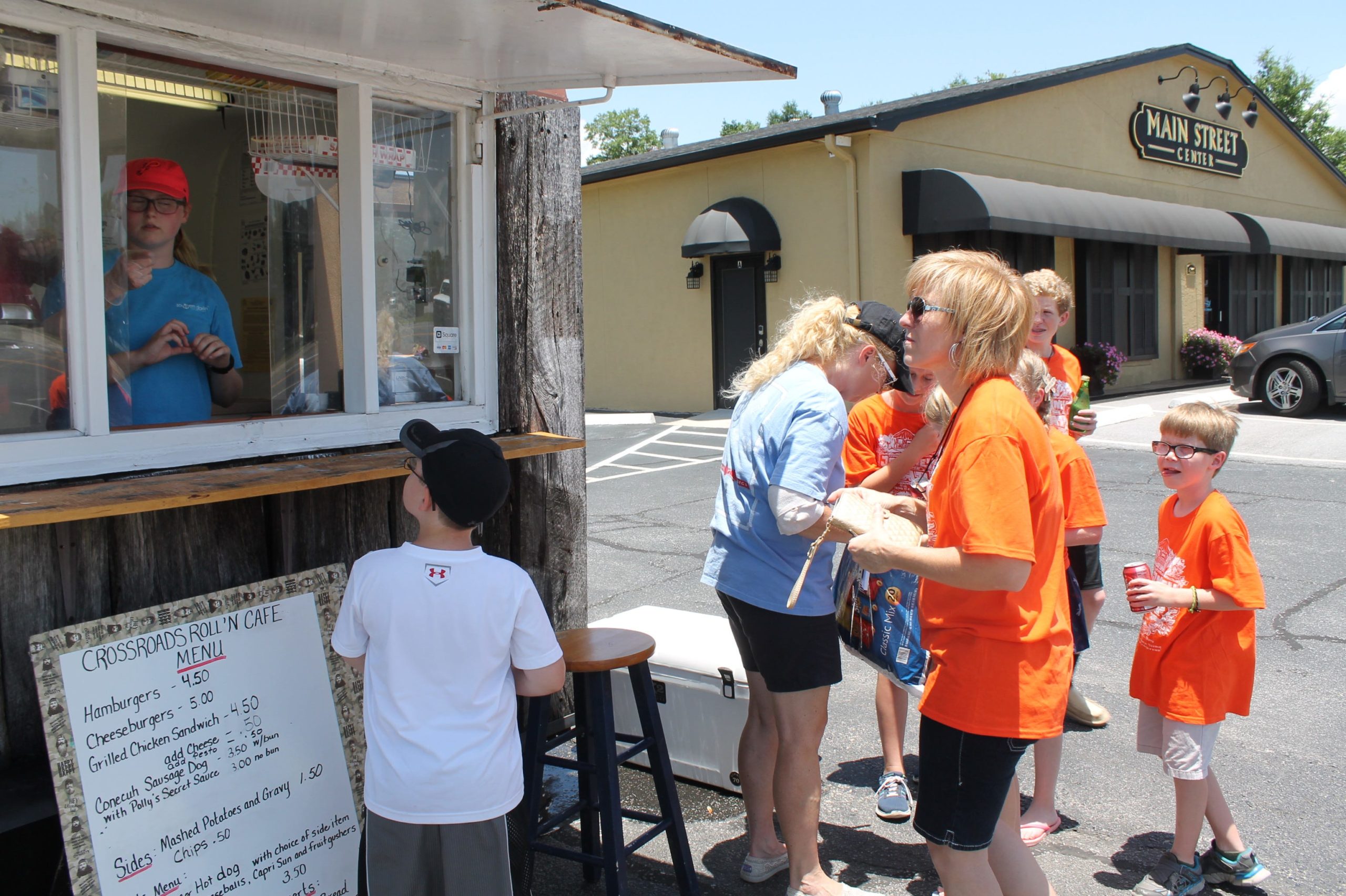 What if the restaurant came to the people?
Tony and Carla Cross, along with their youngest daughter, Sydney, and son, Sawyer, and Carla's mother, Sandra Kimbrough, as well as a brother and sister-in-law are all part of a family venture into the mobile business of running a food truck, namely CrossRoads Roll'n Café. While most businesses brainstorm how to bring customers to them, The Crosses have the luxury of going where the people are.
Tony Cross came into the business with a background in restaurant work with his parents 17 plus years ago. After leaving the very busy restaurant business to give more time to his family, Tony entered the oil business and was there for 10 years before it collapsed. He said he considered returning to the restaurant business and even found a few possible locations for one when his mother suggested a food truck. After  finding one too expensive, and another getting struck by lightning, his wife Carla said they prayed and found their current portable eatery, a wood slatted trailer with a service window on the side.
Carla Cross said "Without family, friends, and the blessing of the Lord, we couldn't do this. We were at a crossroads in our life." The CrossRoads trailer was at the Pace Virtual Farmer's Market SUPER Market sale June 11, which Carla said prepared them for a truck rally where they sold 125 tickets. The Cross's list their debut on the CrossRoads Roll'n Café Facebook page as the June 13 food truck rally in Pensacola.
Being so new, Tony could only say the kind of customers they see are hungry ones. On the menu for now are hamburgers and cheeseburgers, grilled chicken sandwiches, Conecuh sausage dogs and for dessert, traditional and blackberry bread pudding and cinnamon cream cheese bars. Monday, Kristi Needles, and six youth from Immanuel Baptist Church's Vacation Bible School program stopped by for lunch. Monday they will see how they do at the Warrington campus of Pensacola State College and are considering Ellison Industrial Park in the future as well as Naval Air Station Whiting Field.
By contrast, Carmelina's On-The-Go Food Truck has a semi permanent spot in the parking lot of Alyssa's Antique Depot on Chumuckla Highway. Carmelina's has a few picnic tables nearby as well as several metal table and chair arrangements near the building. The menu outside even indicates additional seating available inside at Dawson's Nook.
Carmelina's owner, Jennifer Adams said they've been at Alyssa's location for four years and has an agreement to be there. "We've developed a following," she said, and people will ask if they're not around.
Closed on Mondays, Carmelina's is open Tuesday through Saturday and offers a standard menu of three items: chicken salad, a fancy grilled cheese, and a New York style hotdog. They also rotate 40 items as specials daily. "Everything is homemade from scratch. Nothing is premade," Adams said.
Though Carmelina's operates more like a brick-and-mortar café, Adams said they're interested in running  a second unit for a more mobile presence.
Carla Cross said she knows Carmelina's well and would be interested in working together, a unique practice to the food truck business. She also said they're considering putting together a monthly food truck gathering.
As CrossRoads location can change as easily as the menu, follow them on their Facebook page to see where they will be next. For now, look for the rustic-looking trailer to the right of Steven's Market Deli across from Sonic in Pace.
CrossRoads hours are 10:30 a.m. to 2 p.m. Tony said they also plan to be available for catering and special events. This Saturday, CrossRoads will be at the Blackwater Trail Antiques and More set up off 6705 Berryhill St with breakfast items available.
This article originally appeared on Santa Rosa Press Gazette: Rolling Restaurants in Santa Rosa County