Rockin' SuperSoaker 5K Run/Walk, Water Slide Fest happening August 15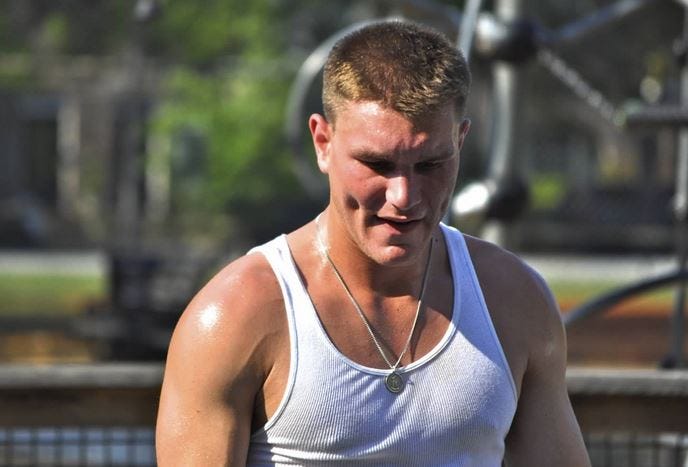 WANT TO GO?
WHAT:  The Rockin' SuperSoaker Fun 5K /Walk & Water Slide Fest
WHERE: Downtown Milton
WHEN:  8 a.m. on Saturday, August 15
COST:  $20 for children ages 5-12, $25 for teenagers ages 13-17 and $35 for adults.
REGISTER: Online at runlivehonor.com/register
The Rockin' Super Soaker Fun 5K Run/ Walk and Water Slide Fest will offer Santa Rosa County residents an opportunity to cool down while honoring fallen airmen including Lt. J.G. Thomas Cameron.
In addition to getting hosed down by water guns, water-filled balloons, the upcoming event will also feature fire trucks spraying tunnels of water for participants to run through.
"This is the first one with an outside theme and that is because the families wanted something fun," said Glen Hill, chair of the Thomas Cameron Memorial Foundation. For the past four years, the foundation has organized a benefit 5K event which continues to honor not only Cameron but the many other military aviators who have died while serving.
 "It's our community honoring our aviators, they put so much into our community," Hill said.
 Hill said the main goal of the foundation is to offer any financial assistance to area families of fallen aviators.
The foundation is named in honor of Cameron, a native of Portland, Oregon, who died in a helicopter crash on February 28, 2012 along with four other crew members during a training exercise. Cameron was only 24 years old at the time. 
Prior to his death, Cameron was known for giving back to his community, especially during his tenure of flight school at Naval Air Station Whiting Field, Hill said. 
 "Thomas spent his time in our community mentoring children, young men who were getting out of juvenile delinquency programs (and) helping young men get their GED's," Hill said. "He just did a lot of work in the community while he was here in flight school."
While Cameron was known for his love of sports in playing basketball, tennis and soccer, the foundation will use the proceeds from this event to benefit area athletic programs for area youth, along with benefiting the Milton lacrosse program.
Hill said the annual event continues to grow in participation.
"We had 500 in the first year, 600 in the second year and approximately 700 in the third year," Hill said. "This is our fourth year and we are hoping to get a thousand."
In addition to getting soaked while participating in the 5K Run/Walk, the event will feature multiple water slides. Parents can register their children, ages five and older, to play on the water slides. Children can play without having to participate in the 5K Run/Walk.
The event will also feature a kick off concert featuring the band "Critical Incident" on Friday night.
Event t-shirts will only be ordered for those who register online at runlivehonor.com before midnight on August 1. 
This article originally appeared on Santa Rosa Press Gazette: Rockin' SuperSoaker 5K Run/Walk, Water Slide Fest happening August 15