Riverwalk Run 5 k registration underway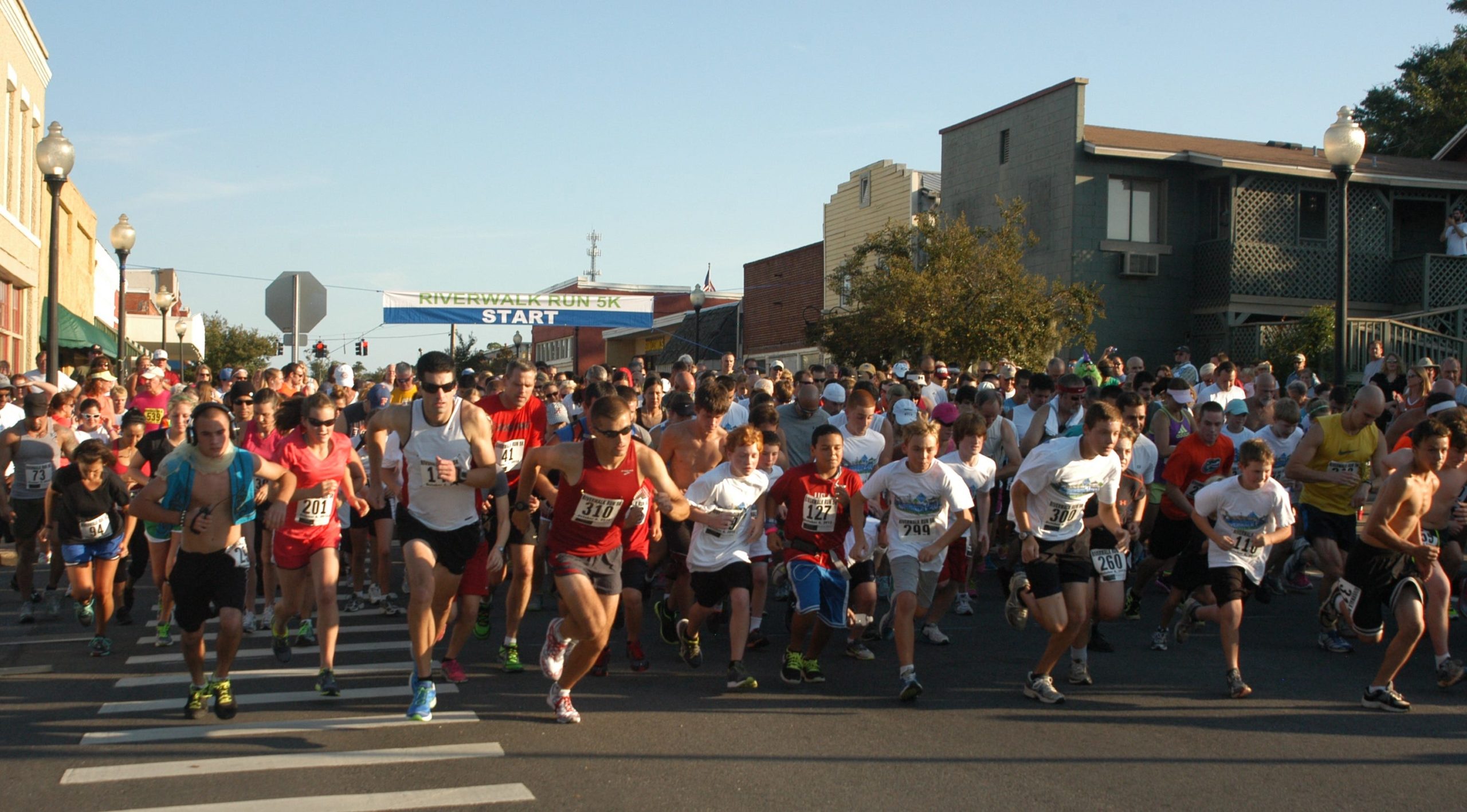 Runners to your marks!  Get set!  Go!
It is time to register for the Riverwalk Run 5K 2014, which races through historic downtown Milton, Fla., at 5 p.m. on Oct. 4.
This certified 5K, (3.1 miles), afternoon course will offer the chance for three lucky people to win $250.
Two of the $250 prizes will be if a man or woman breaks the record.
The men's record stands at 15:46 and was set by Nate Crum in 2011. Crum had recently moved to Milton for his assignment at NAS Whiting Field and was a late entry for the race after he saw the registration sheet while paying his utility deposit.
The women's record is held by Milton High School teacher Susan Smith who posted a time of 20:12 last year, which was more than 20 seconds better than Sandra Eubanks record set in 2010.
The third way to win doesn't matter on your speed at all. The ticket to win $250 is your bib number, but you do have to be present after the race. One runner, walker, or wheelchair participant will have their bib number randomly drawn at the awards ceremony after the race and will win $250.
Finally student runners can help their respective school earn a $250 prize for the most participation. Students must register and list their school to win.
"Regardless of skill level, we want to make sure everyone has an opportunity to win," said Katie Nichols, event director.
But you not only have to participate, but you must register as well.
Registration for the Riverwalk Run 5K this year is being done online at www.runsignup.com through Sept. 26. The fee is $20 online with a race shirt and $15 without a shirt until Sept. 1. No credit card processing fees will be charged to the participants.
If you register for the Riverwalk Run 5K online after Sept. 1, the cost will be $25 with a shirt and $20 without a shirt.
On Sept. 29 there will be early package pickup and late registration at Academy Sports and Outdoors at University Shoppes in Pensacola from 4 to 7 p.m. A second one will be held at Anytime Fitness in Milton in on Oct. 1 from 10 a.m. to 2 p.m. and a third one at the Milton Community Center on Oct. 2 from 3 to 5 p.m.
Registration fee includes a T-shirt, race bag to the first 350 people to pick up their packet, as well as post-race refreshments provided by Winn Dixie and other sponsors.
Race day registration is $25 at the Riverwalk Pavilion on S. Willing St. next to the Santa Rosa County Veteran's Memorial Plaza, but shirts at this time will not be guaranteed. All participants registered by Sept. 1 are guaranteed Milton Riverwalk Run 5K T-shirt.
Strollers are welcome in the Riverwalk Run 5K, but there may be some areas along the course that are difficult to get through with one, especially the section along the Riverwalk Boardwalk which can be a little bumpy and narrow at the entrance and exit.
For more information on the Milton Riverwalk Run 5K you can go online at www.riverwalkrun5k.com or contact the Milton Parks and Recreation Department at 983-5466.
This article originally appeared on Santa Rosa Press Gazette: Riverwalk Run 5 k registration underway