Riverwalk 5K run results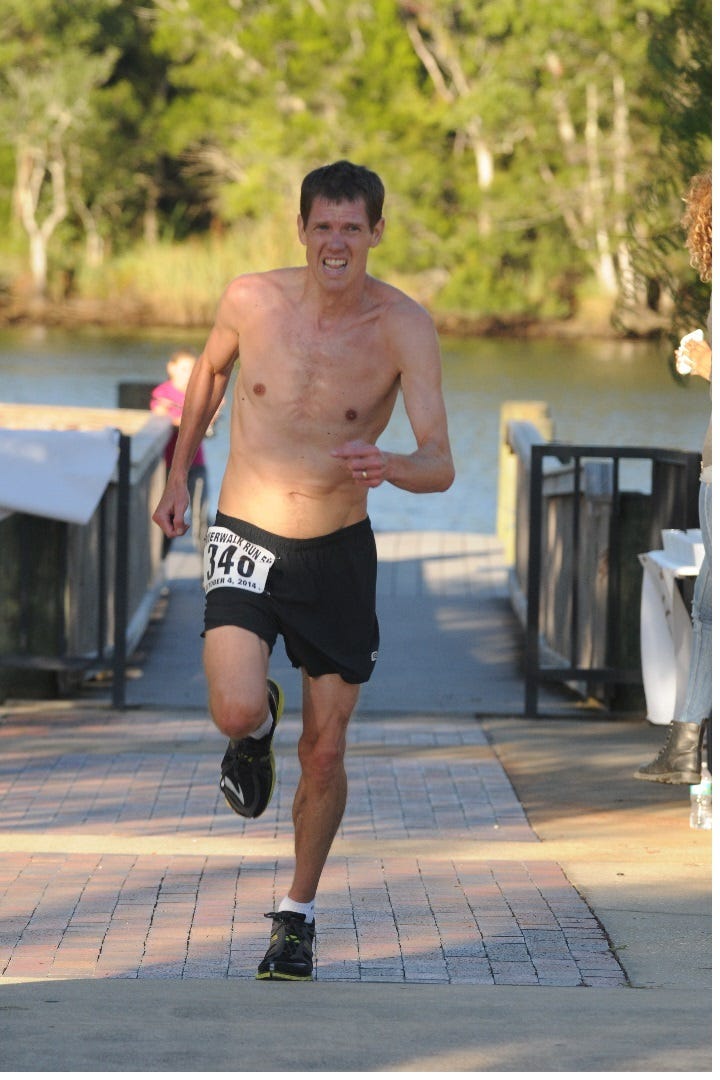 Over 470 runners and walkers turned out to traverse the streets of historic downtown Milton for the annual Riverwalk Run 5K.
Navarre's Mitchell Jone dominated the race as he finished the race in a time of 17:02.
Despite Jone's dominance of the race he finished well off the men's record set by Nate Crum of 15:46 back in 2011.
In the women's race, the record of 20:12 set by Susan Smith last year seemed to be in jeopardy for a moment, but Milton's Michele Williams crossed the line in a time of 20:45 to take the women's overall title and finish ninth overall.
"It was a great day for a race and the weather was perfect," said Katie Nichols, special events coordinator for the City of Milton Parks and Recreation Department. "The number of runners and walkers who turned out today was even better than we had anticipated. This was a great event for the City of Milton thanks to our sponsors and adding the special edition of Bands on the Blackwater with the CrossTown Band made it even better," she said.
The City of Milton would like to thank its sponsors like Lou Sobh's Milton Chevrolet, Winn Dixie, PenAir, Academy Sports and Outdoors, Tominco, Anytime Fitness, National Cremation, Ark Animal Hospital, Gulf Power, The Blackwater Bistro, Milton's Sports Talk AM1490, Cat County 98.7, Santa Rosa Medical Center, and many otherswho helped to make the event possible.
Runners are reminded to mark their calendar for the first Saturday in October 2015 for the next edition of the Riverwalk Run 5K in historic downtown Milton.
The next downtown event will be the first three Friday's in December as the City of Milton will ring in the holidays with Big Screen on the Blackwater.
Holiday movies shown on the giant 25-foot inflatable screen will be Rise of the Guardians (Dec. 5), a trio of cartoon shorts (Shrek the Halls, Merry Madascar, and Ice Age: A Mammoth Christmas) on Dec. 12, and Polar Express on Dec. 19. Santa will be here for all three weeks this year.
For more information, contact Milton Community Center at 983-5466, or check the city's website for information regarding all city sports and activities at www.ci.milton.fl.us.
Milton Riverwalk Run 5K Results
Award Winners
Male Overall 5K
Mitchell Jone                     Navarre                                17:02
Female Overall 5K
Michele Williams              Milton                   20:45
Male Master 5K
Bob Walker                         Baker                    19:06
Female Master 5K
Angila Walker                    Baker                    25:10
Male Grand Master 5K
Chris Neal                            Pace                      19:15
Female Grand Master 5K
Jo Robey                              Pace                      26:44
Male Senior Grand Master 5K
Gary Lambert                    Pensacola            22:16
Female Senior Grand Master 5K
Karen Long                         Cantonment      27:54
Male Overall 5K Walk
Bill Stewart                         Jay                          33:41
Female Overall 5K Walk Results
Angela Dees                       Milton                   35:11
Male Wheelchair 5K
Dean Ward                                                         33:49
This article originally appeared on Santa Rosa Press Gazette: Riverwalk 5K run results