Pensacola with Kids hosts Toy Trade on Dec. 21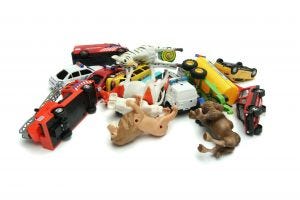 "Trade those toys your kids don't use, for those they WILL!"
Pensacola with Kids is hosting the 1st PWK Toy Trade to help parents and grandparents get toys they need for their kids in exchange for the toys their kids no longer play with. 
The PWK Toy Trade will be held on Saturday, December, 21 from 3 – 7 p.m. at St. Francis of Assisi in Gulf Breeze.  We encourage parents to bring their children and make an evening of it. 
There will be a bounce house provided by Patriot Party Rentals, music provided by DJ Gus Music to Go, Santa Clause and hot chocolate and cookies. 
Gift wrapping will also be provided by volunteers to ensure the kids do not see what gifts they will be getting.  Everyone in the Pensacola and surrounding area is invited!
"With a teenager and 2 toddlers, we have a tight budget, so this is a great way to shop for Christmas.  Plus I like being able to donate toys they don't use," said Morgan S., mother.
Parents have a hard time keeping up with the amount of toys they collect as their kids grow.  The more toys, the more money that needs to be spent and with a tough economy, Pensacola with Kids wants to make it a little easier.
"I love the opportunity to be able to get rid of the toys in our home that are not age appropriate and clear out the space.  This is also a great event that will give us the opportunity to look at toys that are age appropriate without spending hundreds of dollars on new toys.  The PWK Toy Trade will be a way for Moms to help out other Moms in so many ways!"  said Theresa C., mother of three girls under the age of six.
The Toy Trade will comprise of parents being able to "purchase" toys with tickets that are worth the value of the toys they donate, or purchase the tickets for $1 each.  The toys will be given a specific value and then separated into groups by age and ticket price.  Then the guests will "shop" for toys they need. 
Box
What:  The 1st PWK Toy Trade
Who is invited:  mothers, fathers, grandparents in Pensacola and the surrounding area
Where:  St. Francis of Assisi Episcopal, Gulf Breeze
When:  Saturday, December 21, 3 p.m. – 7 p.m. (toy drop off Friday, 4  – 6 p.m. and Sat, 10 a.m. – noon.
This article originally appeared on Santa Rosa Press Gazette: Pensacola with Kids hosts Toy Trade on Dec. 21