Pensacola Harley Owners Group accepts flag in national relay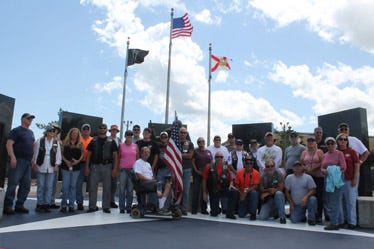 With thanks for the Santa Rosa County Sheriff's Office escort, 7 motorcycles from the Tallahassee Harley Owners Group (HOG) met up with 23 from the Pensacola HOG and rode together from the Bagdad I-10 exit to Veterans Memorial on the Riverwalk. Their purpose was to exchange the Nation of Patriots flag.
According to the Nation of Patriots website, www.nationofpatriots.com, the nonprofit  organization formed in 2008 and launched the Patriot Tour in 2009. What is the tour? From the site, "The Patriot Tour begins during Memorial Day weekend.  A massive group of riders escorts one American Flag on the back of a motorcycle to Woodstock Harley-Davidson in Illinois.  Upon arrival, the flag is transferred to the Illinois escort.  The very next day the Flag is taken to Indiana and the next it travels to Michigan…and on and on for 100 days, through 48 states.  The Flag finally makes it full circle and lands right back in Wisconsin where it all started over Labor Day weekend."
Before the official reception of the flag into the hands of Kerry Saso, president of the Pensacola HOG, the "Rite of Passing" was read. The message presents the flag, reminds the bearer of the honor of accepting it, and asks the rider if he or she accepts the flag with the promise to represent America in a "manner fitting to her grand legacy and confidently take on the responsibilities of an official Flag Bearer?" Finally, the message reminds the rider "the heart of our nation travels with you."
This was the fifth year of the ride for both the Tallahassee and Pensacola HOGs. Leader of the Tallahassee group, Dave Grabow said his group had a great ride this year and stayed dry, unlike most years. Made up of mostly combat veterans, Grabow said there are 50 HOG chapters in the state of Florida, but only three were asked to escort the flag.
Saso, with a 38 year service record in the Air Force and on a bike since he was 10 years old, said it's an honor to carry the flag considering its meaning, and what this country stands for and does.
Thursday morning, the Pensacola HOG set off from the Pensacola Harley dealership with the flag bound for Biloxi and the next exchange in the national relay. More information on Nation of Patriots is available at www.nationofpatriots.com and www.nationofpatriots.org. All donations, according to their websites, go to veterans in need.
This article originally appeared on Santa Rosa Press Gazette: Pensacola Harley Owners Group accepts flag in national relay