PCT seeks actors for upcoming play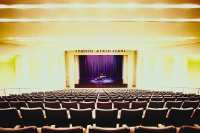 Panhandle Community Theatre will be holding auditions for their upcoming play, "The Gingerbread Lady," Neil Simon's dramatic comedy to be performed February 25-28 and March 3-6. The play is a story about Evy Meara, a popular singer who has hit the skids. After a short stay in rehab, she comes home with her friends Toby, a beautiful women with marital issues, Jimmy, a gay actor, struggling with his career , and her Daughter Polly who desires a better relationship with her mother, all trying to help her piece her life back together, then all the drama, chaos begins. Simon's story of lost misfits can be @times genuinely and deeply touching. It will be directed by Joe Perna.
Auditions will be held  December 28 and 29 at 6:30 p.m. at 4646 Woodbine Road – Pace (StorageMastersCenter). PCT will be auditioning for 3 males and 3 females (all adult roles).  For more information email panhandle_community_theatre@yahoo.com.
This article originally appeared on Santa Rosa Press Gazette: PCT seeks actors for upcoming play