Panhandle Community Theatre presents: Night Watch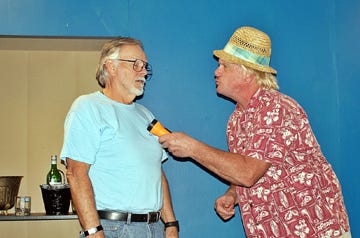 The Panhandle Community Theatre, a non profit organization, will present Night Watch, written by Lucille Fletcher and directed by Bob Monson with Melanie Pyne, assistant director, the last weekend of February and first weekend of March.
Synopsis:  In an upscale apartment in New York City, heiress Elaine Wheeler suspects everyone she knows is plotting against her: the butcher who delivers her meats, her housekeeper, the neighborhood police officer, her personal nurse, various neighbors, and of course her husband John. She is a chronic insomniac and sees things take place outside her window that, when investigated, do not appear to have happened. Every character in this thriller is under suspicion and until the end of the play, the audience cannot be certain of what is real, and what is created by Elaine's paranoia.
Want to go?
When: February 26-28/March 1 & March 5-8
Evenings at 7:30 p.m., Sunday Matinee at 2:30 p.m.
Cost: Tickets $12 with "Special Low-Dough Shows" Thursdays February 26 & March 5 with all seats $9
Limited seating each show
Contact: Reservations call 221-7599
Or make reservations through email: panhandle_community_theatre@yahoo.com
Where: Theatre located at 4646 Woodbine Rd. – Storage Masters Center, Pace, one mile off Hwy. 90
CAST:
Elaine Wheeler – Ginny Hinton
John Wheeler – Ken Armitage
Blanche Cooke – Traci Simons
Curtis Appleby – Milan Smith
Lieutenant Walker – James Glass
Helga – Jean Moses
Dr. Tracey Lake – Debi Phillips
Sam Hoke – Barry Shuck
Officer Vanelli – Sharon Posey
This article originally appeared on Santa Rosa Press Gazette: Panhandle Community Theatre presents: Night Watch