Pace Water receives Excellence Award from WCA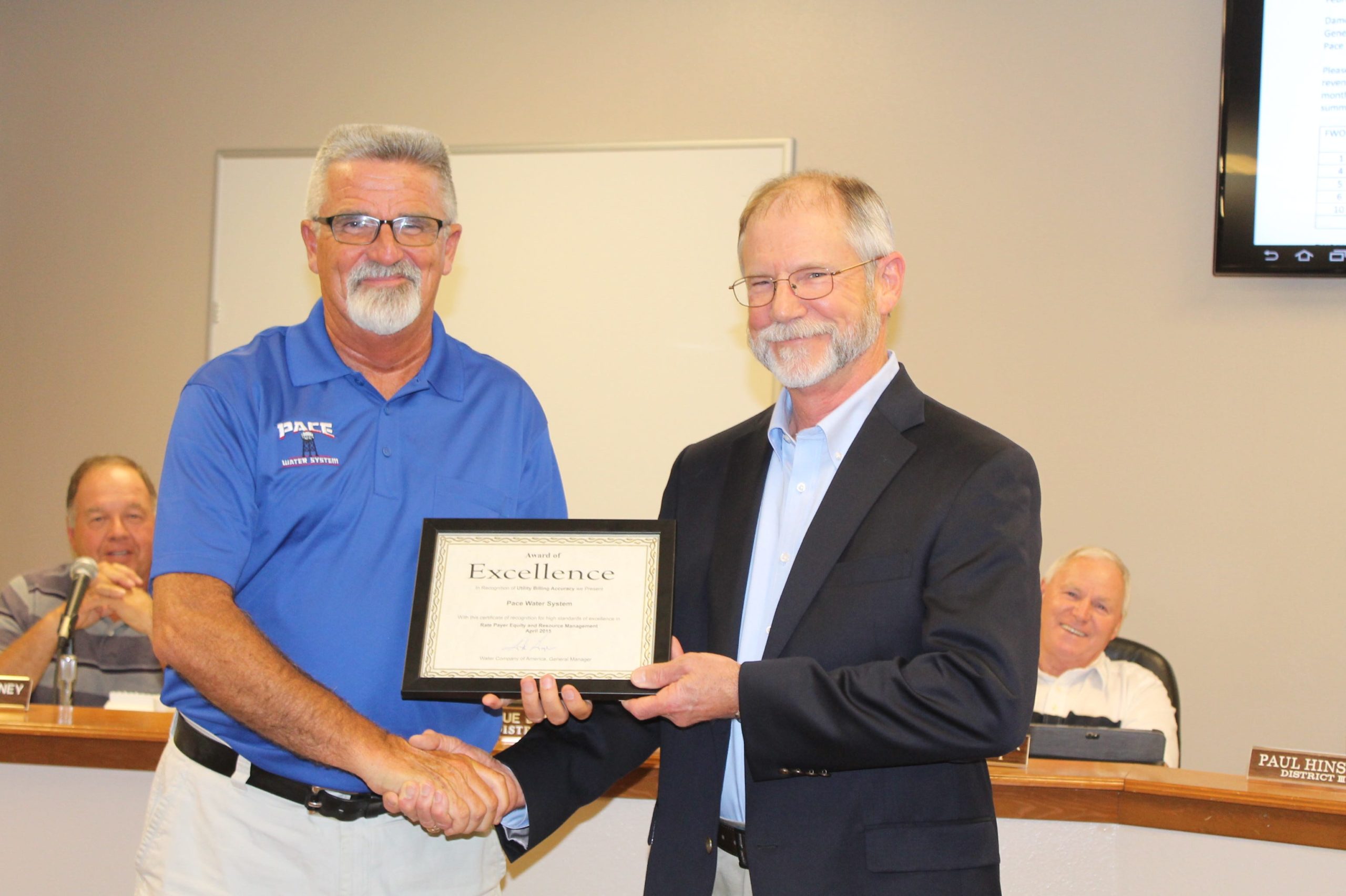 Pace Water System received the Excellence Award from Water Company of America at PWS's monthly board meeting along with WCA's report on the 18 months it spent looking over Pace's water utility customers. The report indicated five total infractions among 14,000 PWS connections. The award recognizes PWS's utility billing accuracy and high standards of excellence in rate payer equity and resource management.
According to Mike Necaise, WCA regional manager, the company contracted with PWS "to basically audit the accuracy of the bills that were going out to your customers in an effort to find any discrepancies and ensure that rate payer equity existed among all users."
Steve Hooper, General Manager of WCA, said his company's purpose is to make sure utility billings are fair and accurate. "We wanted to know if even one customer is over or under billed," he said. Typical problems WCA finds are connections not being billed, meter reading errors, and bad or faulty meters according to Hooper.
Necaise said PWS's numbers were rare. "Overall, you had five fines amounting to additional income of $1,336.50 per month with back billing of $18,221.19. It's unheard of that we would come in and spend the resources that we spent to find five different areas for improvements only," Necaise said.
Hooper said, "The project for Pace produced one of the lowest numbers of discoveries in fines based on total number of accounts in our work experience. I think that's an affirmation of what staff is doing."
Reiterating a comment PWS President of the Board of Directors of PWS Paul Hinson made, Hooper said, "If all of my clients were as affective with what they do internally as Pace is, we'd be out of business in short order." WCA operates on a performance fee contract, Hooper said, so the company only earned a percentage on the money it saved PWS. Hinson said, "This did not cost Pace Water System a penny. The  amount they made was off of what they found."
According to Hinson, "WCA's average and marketing prediction is to find $10 per service connection when conducting an audit. They fully expected to end up with an estimated revenue increase of $140,000.00 per year for PWS based on 14,000 connections. Instead, what they wound up finding is an estimated $16,000 per year increased revenue. The sole reason for this is the dedicated and thorough employees of PWS."
This article originally appeared on Santa Rosa Press Gazette: Pace Water receives Excellence Award from WCA