Pace resident shares perspective on diabetes and misconceptions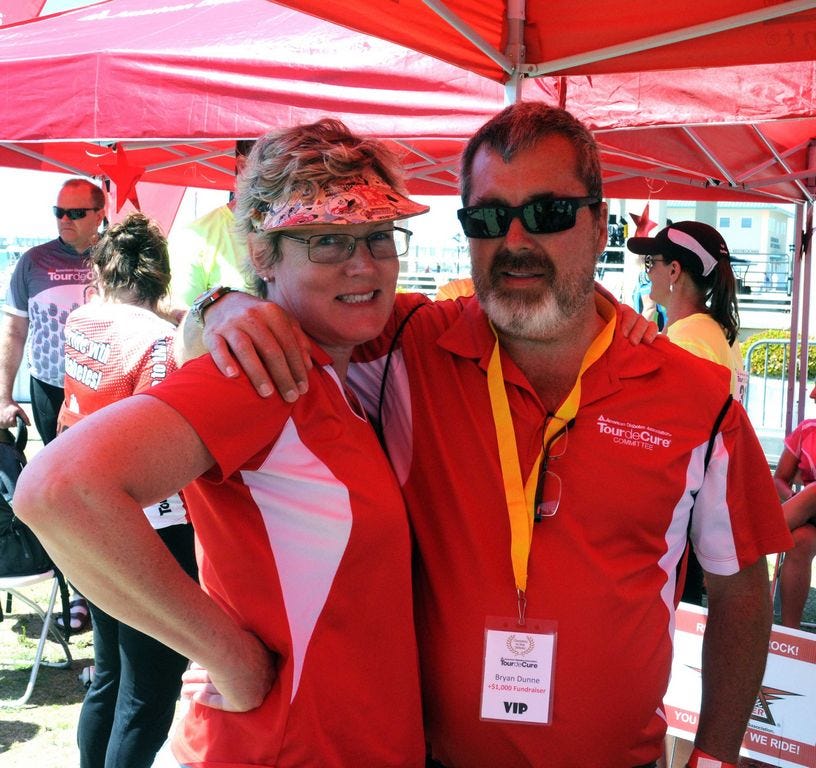 At the age of 30, Bryan Dunne was taken surprised with his diagnosis of diabetes. Now, at the age of 55, Dunne is doing what he can to spread awareness and address any misconceptions about the lifelong disease through volunteering with the local American Diabetes Association and working behind the scene of the ADA's local Tour de Cure event, which is scheduled for Saturday, March 19.
Since moving to the Pace area 10 years ago, Dunne said, making sure the Tour moves efficiently and riders are safe, having what they need in order to complete their ride. Dunne approached the local ADA about starting a Tour de Cure event.
"I brought it to Pensacola thinking it would be a good opportunity to do some charity work," he said. "I have been so busy putting it on, I have never ridden in it."
 This year could be different for Dunne, who regularly has family and friends assist him in organizing 'Command and Control.'
In addition to being diabetic, Dunne also has Parkinson's Disease.
"I am never going to get back to where I was, but I am grateful if I don't lose ground," he said.
The ailments do not seem to slow him down. In addition to preparing for the upcoming Tour de Cure, Dunne has also regularly participated in a Corvette racing school for the past three years.
"I just concentrate on what I can do," he said.
While he said he could not find a family history of Parkinson's, there is a presence of diabetes in his family tree.
"My grandmother was 86 when she died from a diabetic stroke," Dunne said.  "She always said she did not have diabetes, she had 'a touch of sugar.' That was a euphemism which was popular for people who did not want to admit or didn't understand diabetes. Most of them are afraid of  injections."
However, medical advancements have come along way. Insulin, needed for Type 1 diabetics and some Type 2s, comes  in the form of vials, pens, or insulin pumps.  Oral medication can be taken for Type 2 diabetics who don't need insulin. An active lifestyle is vital for diabetics, he said.
Dunne also addressed the stigma which is often attached to diabetes.
"We are still working on removing that stigma. Diabetes is not a weakness, it's a condition," Dunne said. "You can work with a condition."
In addition to spreading diabetes awareness, Dunne said the organization also assists with advocacy.
"There are school systems which won't (allow students) to check their blood on campus. They won't let them take insulin if they need it," he said. "We stick up for them."
 Dunne said he will always maintain his stance in supporting the ADA.
"The ADA does a lot of research and they fund researchers who say they will study diabetes. Every year they will give them grants and that is where the cure will come from," he said. "I think the ADA is doing what they should be doing. They have a multi-pronged approach with advocacy and the research. They are looking for a cure, not just another treatment and I intend to continue to support them." 
The 8th Annual Tour de Cure is scheduled for March 19, and will take place at the Casino Beach area of Pensacola Beach. Riders can choose to ride one of three routes including 18, 36 or 62 miles.  The routes will feature rests stops along the way, stocked with drinks snacks, mechanical needs, restrooms, etc. along with a SAG vehicle to assist should an emergency arise along any of the routes. Like in previous events, supports will cheer riders as the cross the finish line which will include live entertainment, food and even massages.
 Lynn Cranford, an associate director for the ADA, said the event is much more than a scenic ride. 
 "The Tour de Cure is more than just a bike ride. It is a celebration of hope and a chance to raise critical funds to help stop diabetes. Every mile you ride and every dollar you raise brings us that much closer to stopping this disease that affects over 84,000 people in our community," Cranford said in a press release.
"With diabetes growing at near-epidemic proportions, the need for funds has never been greater."
Cranfrod said the local event has raised nearly $700,000 in the six years for the ADA and Dunne has been one of the top fundraisers for the event. 
This article originally appeared on Santa Rosa Press Gazette: Pace resident shares perspective on diabetes and misconceptions