Pace family spreads awareness, raises funds for childhood cancer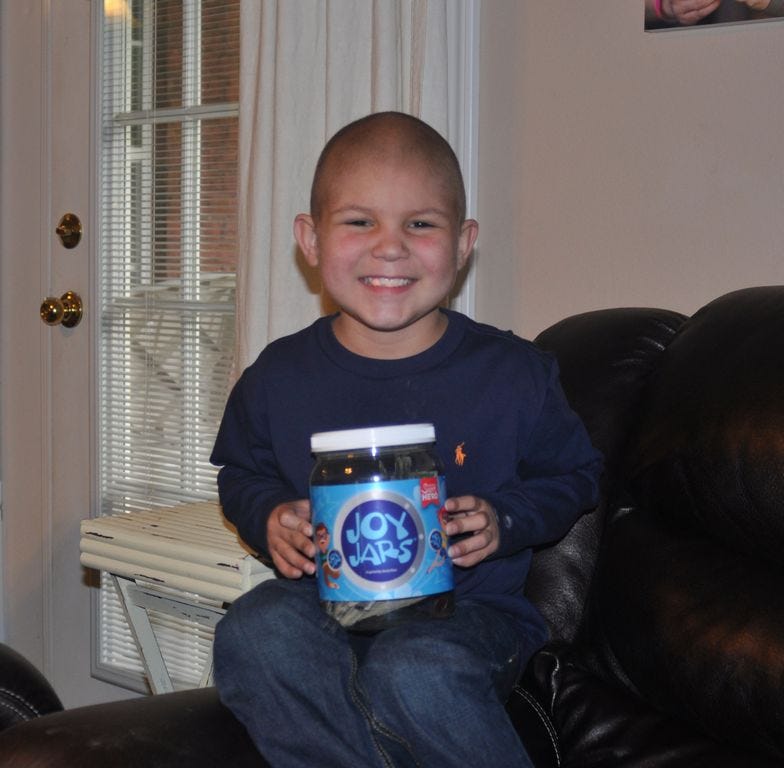 With the improving health of her six-year-old son, Khai, Chloe Davidson plans to continue to advocate for childhood cancer and bring awareness to the lack of funding it receives for research. Earlier this year, Khai was diagnosed with acute lymphoblastic leukemia (ALL), a cancer of the blood and bone marrow.
Since then the family has been on a journey which included multiple visits to specialists for chemotherapy treatments and even complications including a moderate case of Veno-Occlusive Disease which can lead to liver failure.
Earlier this week, Khai underwent his 46th round of chemotherapy for ALL, which according to Cancer.org is the most common type of cancer in children.
Although Khai's prognosis looks great, Chloe is sharing the family's experience in order to not only spread awareness about childhood cancer, but also the need for additional research.
"Once he got diagnosed, I did not know (childhood cancer research) was underfunded," Chloe said. "I think each type of cancer should get the equivalent amount of money donated for research."
Following her son's diagnosis, Chloe came across the awareness campaign 'More than 4,'  which according to the St. Baldrick's foundation, only four percent of the National Cancer Institute's funding is being appropriated towards childhood cancer research.
"It's frustrating because a lot of people don't know about it," Chloe said. 
Since Khia's diagnosis, Chloe shared her son's journey on the 'Keeping Up with Khia' Facebook account, which includes regular updates and information on various organizations looking to inform and fundraise for childhood cancer research.
The family has also been involved with fundraising organizations dedicated to raising funds and awareness for childhood cancer research, like #Morethan4Pensacola and the Rally Foundation for Childhood Cancer Research. Khai even has a 'Joy Jar' in which he is collecting donations for various causes. Chloe said her son donated funds towards families who have children in the hospital undergoing chemotherapy treatments.
Chloe said her Khai does not want to collect funds in order to buy a toy but help others instead.
The Pace community has shown their support for Khai through #KhaiStrong, several schools in the area have collected donations on his family's behalf including the school where he is currently enrolled, S.S. Dixon Primary.
According to Assistant Principal Dan Balsavich, the school supported Khai  through t-shirt and wristband fundraisers.
"We started this last year, when we found out that he was diagnosed with his cancer," Balsavich said.
Balsavich said the Pace community, including football players from neighboring Pace High School, steps up to plate when it comes to supporting one of their own. In addition to carrying Khai through the inflatable helmet prior to a home football game this season, in which Khai can only describe the experience as "awesome," PHS students have also collected donations on Khai's behalf and recently presented the family with a check for more than $5,400 dollars.
The actions of the PHS Patriot football team is an example of how the Pace community takes care of a resident in need.
 "I think the biggest thing, especially in our Pace community is the amount of support that when something happens to a child or a Pace community person in need. Everybody jumps on board and is 100 percent behind them," Balsavich said.
In addition to the fundraising, Chloe said her family is very appreciative of the support.
"It's overwhelmingly amazing," she said. "One day we will get information from one fundraiser followed by another fundraiser."
Chloe added even local businesses have shown their support by displaying 'Khai Strong' signs.
"Even that small gesture is awesome," she said.
Balsavich said the entire school is looking forward to potentially having Khai rejoin his classmates in January, while he was unable to join them in the classroom due to treatments.
Khai said he is looking forward to going back to school and seeing his friends. He is also looking forward to playing tee ball also at the beginning of the year.
This article originally appeared on Santa Rosa Press Gazette: Pace family spreads awareness, raises funds for childhood cancer