Pace and Milton Bring the Heat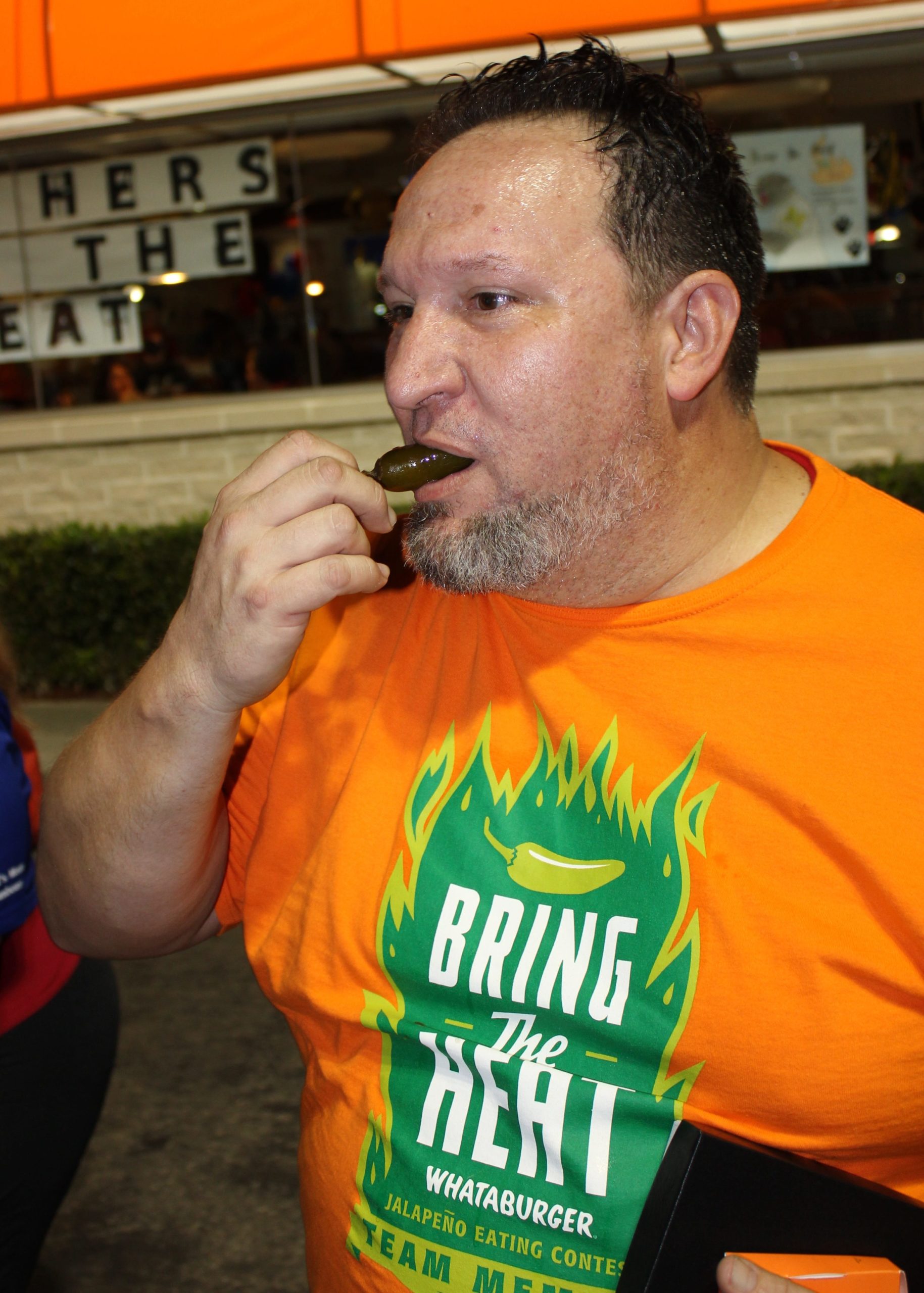 What-A-Burger and Cat Country sponsored the first annual Bring the Heat contest Monday night to kick off the traditional rivalry week between Milton High and Pace High.
The Pea Ridge What-A-Burger parking lot overflowed with supporters of Milton High and Pace High. There were band members, teenagers, families and supporters wanting to witness who could devour the most jalapenos in 60 seconds.
The drum lines from both school engaged the crowd with their musical war. Each school took turns playing their instruments showcasing their talent. Students filled the parking lot dancing, cheering and offering their support for their high school. Vikki Williamson, who is the guidance secretary for the Panthers and is also a band parent, watched the evening of activities with a feeling of satisfaction. "I came to watch Mr. Thorpe eat jalapenos," she said. "But this is great. The students are playing music together and dancing together. It is wonderful how they have all come together."
Williamson's son Spencer Williamson entertained the crowd by lying flat of his back in the parking lot playing his drum as his fellow Panthers played.
Three people from each school received gift packets from the give-away that was held for all the supporters who signed in for their respected school.
"What-A-Burger in other counties has sponsored this same event. The Pea Ridge What-A-Burger contacted us and ask us to join them at this event for rivalry week," Cat Country host Brent Lane stated. "Cat Country is all about the community, this is a big deal for us."
A big deal it was, or a big jalapeno one could say. Three brave competitors from both Milton and Pace participated in the face off where the three contestants stood with a table separating them and an individual bowl of jalapenos in front of them.
Avalon Baptist Church's Pastor Mark Cotton won first place and a $1000.00 for the Pace High Band Program by demolishing nine peppers before the sixty second time limit expired. Cotton's reason for participating was to support his son Brett Cotton School. "He is the reason I am here," as he hugged his son.
Brett Cotton knew his Dad would take the contest easily. "When I heard it was about food and spicy food at that I knew I had to get my Dad," commented Brett Cotton. "Dad, food and spicy go together."
An additional prize $500.00 was up for grabs for the school that had the most supporters sign in at their respected school tents. Pace High had 260 signed in supporters but Milton High had 269 to claim the $500.00 prize for their band.
This article originally appeared on Santa Rosa Press Gazette: Pace and Milton Bring the Heat