Outdoor movie lineup begins July 15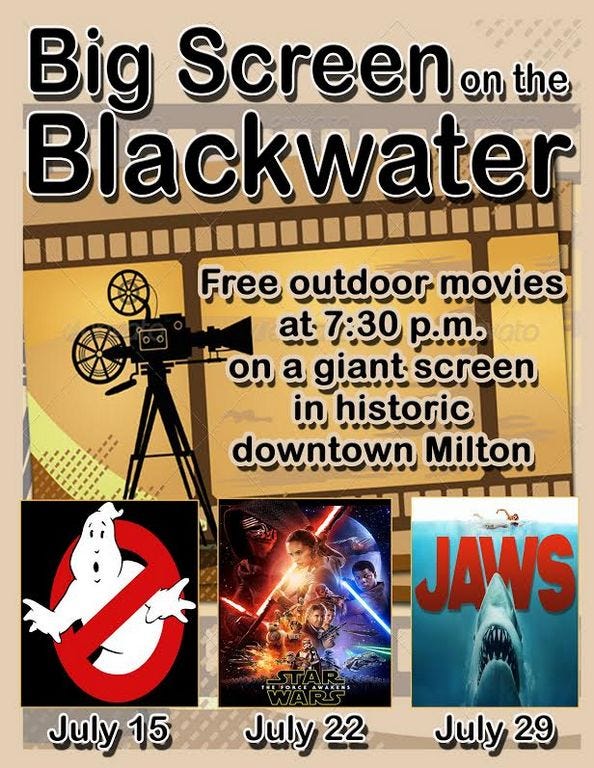 MILTON —  With Bands on the Blackwater's spring concert series concluded, the city of Milton wants to fill the void of community  events along the Riverwalk in downtown Milton.
That begins with a lineup of three free outdoor movies.
"We are filling the gap between spring and fall  Bands on the Blackwater to give people more options to come downtown and enjoy themselves," said Pamela Holt, Milton's public information officer.
Presenting outdoor movies is nothing new for the city. During the holiday season the city, in partnership Tom Thumb Stores, invited people downtown to watch family friendly holiday films such as "Elf" or "Frosty the Snowman."
Starting July 15, the city will present "Ghostbusters" (1984) followed by "Star Wars: The Force Awakens" on July 22 and "Jaws" on July 29. Showings begin at 7:30 p.m.
Like the holiday films, each movie will be shown on a 25-foot screen, recently purchased by the city. Attendees should bring their own lawn chairs and blankets to the event.
Unlike the holiday outdoor film series, these classic films, and the latest "Star Wars" film, cater to a different audience, Holt said.
"The ratings give you a different demographic," she said.
According to a press release from the city, both "Ghostbusters" and "The Force Awakens" are both rated PG-13 as suggested by the Motion Picture Association of America; "Jaws" has a PG rating.
Holt said the city is working on the next 'Bands on the Blackwater' concert line-up.
'Oliver's Twist' is scheduled to kickoff the next leg of the free outdoor series on Sept. 9. 
This article originally appeared on Santa Rosa Press Gazette: Outdoor movie lineup begins July 15