'Ordinary People' auditions at Pensacola Little Theatre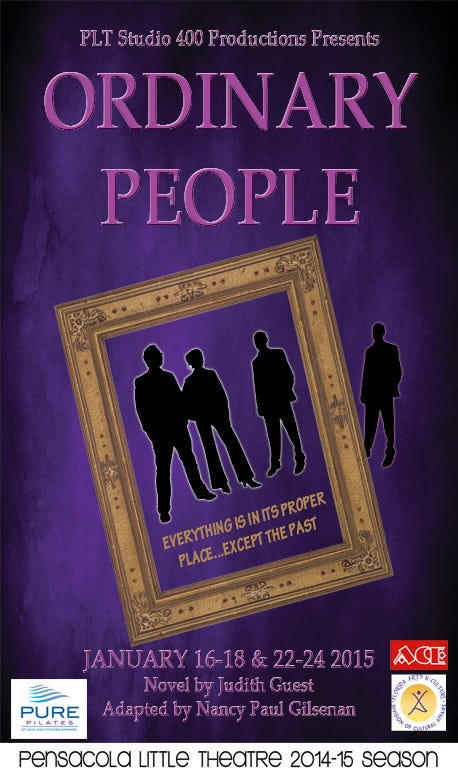 The PLT Studio 400 Production ofOrdinary People comes to the M.C. Blanchard Courtroom Theatre with performances running January 16-18 and 22-24.  Directed by Wayne Peacock, auditions are coming up next week at 6 p.m. on November 3 and 4.  Go to www.pensacolalittletheatre.com/get-involved/auditions for more information about the characters and the audition process or call the Box Office at 432-2042.  Thursday, Friday and Saturday performances are at 7:30 p.m.  Sunday Matinee is at 2:30 p.m. Ticket prices are $10 for general admission and $17 for café seating.  For tickets, call the PLT Box Office at 432-2042.  Tickets are also available online at pensacolalittletheatre.com or at the PLT Box Office at 400 S. Jefferson St.
Synopsis:
Conrad Jarrett had an older brother named Buck, and now Buck is gone. What's left of young Conrad's family, with his successful, well-intentioned father and his beautiful, organized and remote mother, is in terrible jeopardy, as is Conrad himself. They are all "ordinary people" and each is fighting a hard battle. This play goes to the essence of a young man, his friends and family, their relationships and survival. The play is for adults only.
This article originally appeared on Santa Rosa Press Gazette: 'Ordinary People' auditions at Pensacola Little Theatre