Orchids: caring for a popular exotic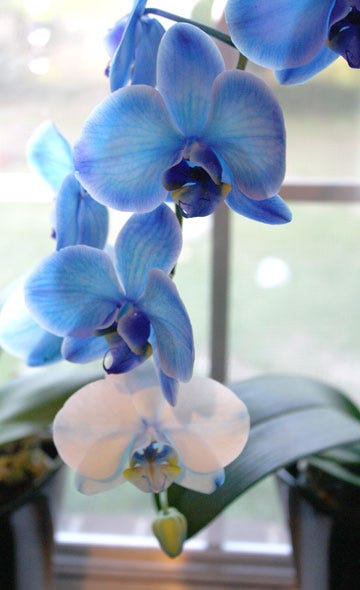 An orchid is an exotic flower enthusiasts do not have to travel far to find. Grocery store plant departments often have many available in a variety of vivid colors and patterns. John Casey of Casey's Nursery and Landscape said orchids naturally come in a variety of colors without tampering. However, Mary Derrick, Santa Rosa County Extension agent said, "Blue orchids have been manipulated." According to Derrick, every new bloom on a blue orchid will be whiter than the last as the dye runs out.
"Orchids naturally grow in trees," John Casey said, explaining why he said the material for repotting the flower is called "orchid bark" and not a kind of soil.
Deborah Casey, John Casey's wife said, "They're not a beginner plant." Casey also said, "People see them in stores because they grow best indoors. The orchids in stores are raised in greenhouses."
Derrick said, "They can be tough if they're in a dry environment; orchids come from tropical rainforests."
Deborah Casey said orchids are known as a bathroom plant because they like the humidity generated by regular showers. Derrick agrees, "They need humidity but not a lot of water." She said, "Mist them inside every few days if the heat is on or they're in a dry environment." Derrick also advised to mist orchids near the root, not the bloom.
According to a University of Florida Extension article, "Tips on Growing Orchids in Florida," by Robert J. Black, "Watering frequency depends on such factors as pot size and type (plastic or clay), medium, location of the pot (hanging or bench), size of the plant in the pot, air circulation, shade levels, and general environment in the growing area." Black also wrote plants grown in porous clay pots should receive more water than those in plastic. According to Black, "Orchid growers should be aware that water with salt levels in excess of 875 parts per million (ppm) is detrimental to the growth of orchids and should not be used." He also wrote water with salt levels less than 500 ppm is safe while salt levels between 500 ppm and 875 ppm mean additional watering and heavy leaching to remove salt from the medium are required. Both Casey and Derrick said bring orchids inside overnight so they don't freeze in harsh winter weather.
Like most other plants, orchids need light as well as water, but it is possible to over sun them, according to Casey. Derrick said orchids can go outside for a few hours in morning sunlight. Black wrote most orchids require partial shade for optimum growth and flowering. He also wrote several species of orchid thrive in 70 to 80 percent shade while the species phalaenopsis is more sensitive to light requiring 85 to 90 percent shade. Casey and Derrick said orchids need to come inside before the heat of the day can damage them.
Derrick said its possible orchids die from not enough moisture or too much. "If you have one," she said, "look up the type of orchid and then find out its cultural requirements."
For more information, contact the Santa Rosa County Extension office at 623-3868. 
This article originally appeared on Santa Rosa Press Gazette: Orchids: caring for a popular exotic