One last putt at Whiting Field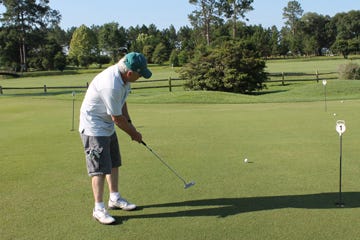 Citizens, veterans, and current military took to the Frank W. Dahlinger golf course Friday for the course's last tournament ever. Monday, according to Public Information Officer Jay Cope, was the last official day the course was open. Before the start of the tournament, Commander Captain Todd Bahlau told the 96 participants assembled, the tourney supported the Navy ball, but closing the golf course was in the top three of tough decisions he had to make. Not even 34 pages of signatures on a petition to keep the course open were enough.
The course itself first opened with just nine holes in 1948, according to Cope. The second were added in 1965 and was constructed by Navy Seabees. Most notable about the course is its record holder, two-time Masters Champion Bubba Watson with a record of 62.
The course's namesake, Commander Frank W. Dahlinger, assumed command of Training Squadron Three June 14, 1985. A Nashville native, Dahlinger was a Vanderbilt University grad in electrical engineering and was commissioned June 1967 through NROTC.
He became a naval aviator November of 1968 and was a P-3 Orion pilot. He reported as XO of VT-3 June 1984, but was attached temporarily to TAW-5.
Dahlinger died April 18, 1986 when T-34 crashed in Summerdale, Alabama Airfield. He was the 20th commanding officer of VT-3 and posthumously presented a meritorious service medal.
While the heyday of the course, Cope estimated, was around the mid 60s to 70s, when the course expanded, though took a dive when Whiting Field removed housing on base. Cope said the federal government dropping subsidies for such facilities meant it would have to sustain itself, something it has not done for years.
Thoughts on re-purposing the course are in the air, but Cope said anything new would have to meet the same standard of self sustainability. The two-level snack bar, Mulligan's will remain open as well as the practice green and driving range. 
This article originally appeared on Santa Rosa Press Gazette: One last putt at Whiting Field