Okinawan team performs in Santa Rosa County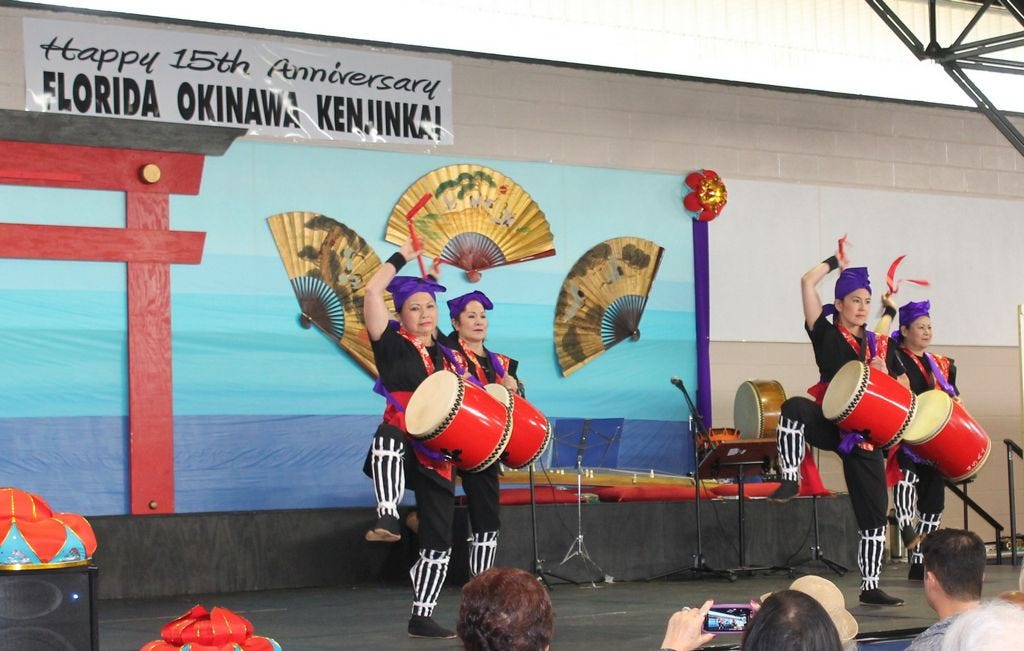 Dancing, singing, and playing the traditional instruments of the culture, members of Team Kizuna, from Okinawa, Japan performed at the Santa Rosa County auditorium. The Florida Okinawa Kenjinkai cultural club, celebrating their fifteenth anniversary, invited the performing and educational team, a three-year endeavor.
The ancient performances included themes of the royal court of Okinawa, celebration, depictions of young love, and having children, home sickness, and historic martial arts. Margie Baldwin, president-elect of Florida Okinawa Kenjinkai in Milton, who hosted the event, noted karate's roots in Okinawa when Japan disarmed the archipelago-country.
Not only was the event significant for bringing a prestigious cultural event to Santa Rosa County, but Baldwin said visitors from Chicago, Las Vegas, New York City, Jacksonville and other places around the country came to the performance. See photo gallery here.
Consul Keiji Aoki attended the event and spoke for Consulate-General of Japan in Miami Ken Okaniwa who was unable to attend. Aoki said this was the first time he had seen these dances in person. Okaniwa, from his letter as read by Aoki, said "the Kenjinkai has played an important role in Northwest Florida, supporting the Japanese people from Okinawa as well as sharing the cultural traditions of Okinawa with the local communities." Okaniwa also noted Kizuna means "bond" or "ties" in Japanese. "Their performance will surely help reinforce the warm bond of friendship existing between Japan and Florida."
This article originally appeared on Santa Rosa Press Gazette: Okinawan team performs in Santa Rosa County