Officer turns the page with 41 years of service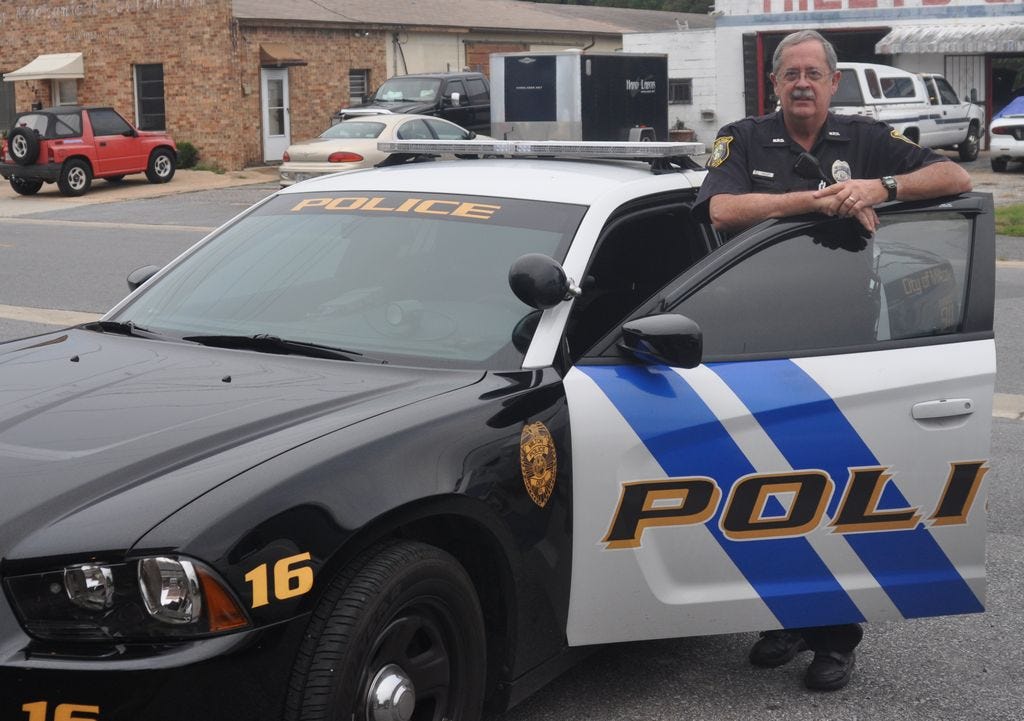 After more than 40 years of local law enforcement service, Milton Police Officer Roger Holley is closing a chapter of his life at the end of the month. While Holley's final day of active duty with the department was on Tuesday, his retirement date will be November 30.
Officer Holley, a native of Chipley, began his law enforcement career with the Florida Highway Patrol in 1973, which is something he always wanted to do.  
"When I was a little kid I would see a Florida Highway Patrol car and I thought, 'that was a cool car,'" Holley said. "At 21, I had the opportunity to go with the highway patrol and so I was hired."
After 30 years with FHP, Holley retired in 2003 and was hired by the Milton Police Department a short time later. Transitioning from working with the highway patrol to a police department came with an adjustment, according to MPD Police Chief Greg Brand.
"Municipal police departments handle a lot of things that state troopers don't typically handle on a daily basis," Brand said. While FHP officers typically investigate traffic incidents and patrol the heavy traffic areas, a municipal police department will  take on additional tasks, such as handling domestic situations, investigating burglaries and much more.
"Roger Holley has fulfilled a tremendous role at the Milton Police Department with the wisdom he brought to the position, with the specialized training and a 'thank you' to FHP with providing all of that with the traffic homicide investigator skills. I have been thrilled to have him." Brand said. "He has been an exemplary employee throughout his career and he is ready to turn that page in his life."
Brand said Holley has shared his investigating skills and insight with several of the younger police officer in the department.
"That is where he has been even more valuable to me because of a legacy that will go on from here with the people he has been instrumental in training," he said.     
Due to the nature of his work of handling homicide investigations, Holley said it is crucial for an officer to not let the difficulties of the job, like coming across a  horrific crime scene, alter their mindset or attitude.
Working a homicide will, at many times, require an officer to "think outside of the box" when attempting to close a case, he said. However, having a good community presence can also benefit.
"Another thing that helps is getting out in the community," Holley said. "If you gain their trust, then they will help you out and I have had occasions when I needed to locate somebody and a few people have helped me out."
Holley will now undertake another transition period by exiting law enforcement into a civilian role.
"The thing that is so bad about it is that one day you are doing it  and you wake up the next morning and it is not there anymore," Holley said. "Now, I have to go and develop a way to adjust to not being the police again and just being a normal person."
Roger's wife, Teresa posted a picture of her husband in uniform standing near a MPD vehicle earlier this week on the Santa Rosa Press Gazette Facebook account, which announced his final day on the job. The post received a great number of 'likes,' comments and shares thanking Holley for his service and wishing the best in the future.
While appreciative of the comments, Holley said he has been told by several individuals they hate to see him go.
"Well, I got to give it up sometime," Holley said in response.
He did leave some words of advice for those just entering their careers in law enforcement.
"Whatever you do, don't let that badge make you think that you are 10 feet tall and bulletproof. You are not," he said. "Make sure this is something you want to do, because it takes a special caliber of person to be a police officer."
This article originally appeared on Santa Rosa Press Gazette: Officer turns the page with 41 years of service