New reporter joins staff at SRPG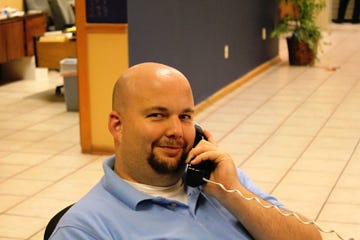 Press Gazette readers are seeing a new byline in the pages of their community paper: Matthew Brown. The seasoned reporter joined the staff Monday and is already making contributions to the publication and website.
                Prior to the Press Gazette, Matthew worked with the paper's sister publication, The Crestview News Bulletin in Crestview, FL.
                "Readers will be seeing many changes in the coming weeks and months as we continue our effort to make the Press Gazette the best home-town news service around," says Press Gazette Publisher Jim Fletcher. "We wanted to expand our coverage of local events, local organizations and area schools. Matthew, with his excellent writing style and hard work ethic will allow us to do just that."
                While Brown will cover a wide range of stories, his regular news beats will include Milton City Council, Milton City Police, Sheriff's Department and the Santa Rosa County School Board. He also will take an active role in the paper's Instagram, Facebook and online posting.
                Brown joins SRPG Reporter Aaron Little and Editor Pamela Holt on staff at the publication. Holt says, "Matthew's eagerness to be a part of the team is just what our editorial staff needs. We are pleased to have him on board." 
This article originally appeared on Santa Rosa Press Gazette: New reporter joins staff at SRPG