Navarre Pier bar closed temporarily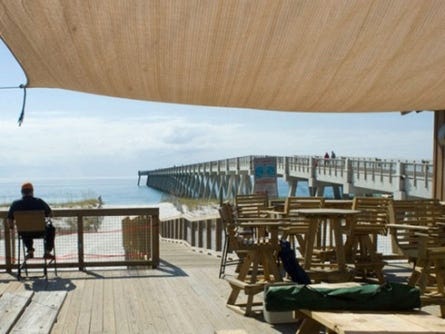 TC's Coastal Porch, the new managers of the restaurant and bar on the Navarre Pier have had their doors closed because they were only operating as a bar, said
Santa Rosa County Attorney Angie Jones, which it cannot do according to its contract with the county.
Commissioner Jim Melvin said he received a complaint from a citizen about the bar and grill; operating as a bar and not selling food. Melvin said he took the issue to Jones. Melvin said the previous owners of the bar and grill took their kitchen equipment with them and the new owners were waiting on new equipment to get the grill side of their business up and running. However, he said, "They were operating outside the four corners of their contract." The commissioner said the owners willingly ceased operations and described what happened as a small corrective action saying, "This never rose to the level of needing board action. You don't need a mallet when a nudge will do."
County Commissioner Bob Cole said Jones called him for his opinion on the situation. Cole said, "I told the attorney they should sell hamburgers or pizza or even make some sandwiches." He said he understands how long it takes to get a restaurant up and running. However, Cole said, "But we can't' skirt the health department." He said he spoke with the owner and asked him to find out what the health department would allow.
Jones said of the owners, "They demonstrated they wanted to be very cooperative with the board. They wanted to cause the smoothest ripples as possible." Jones said she told them, "The board has been vocal in the past about not wanting a bar at the pier." However, she said she told them they could come to the commission to discuss how they should proceed, but opted for now to shut down until they were ready to open as a compliant bar and grill.
Cole said he heard from the owners of the bar and grill, who related they thought it was the board's decision to shut them down but he said that was not the case. For two to three weeks the bar and grill will be closed according to Cole. TC's Coastal Porch took over the contract to manage the restaurant and bar in December. Their original prediction to have the restaurant open for business was February.
This article originally appeared on Santa Rosa Press Gazette: Navarre Pier bar closed temporarily