Milton:City will repave Alabama and Dixon Streets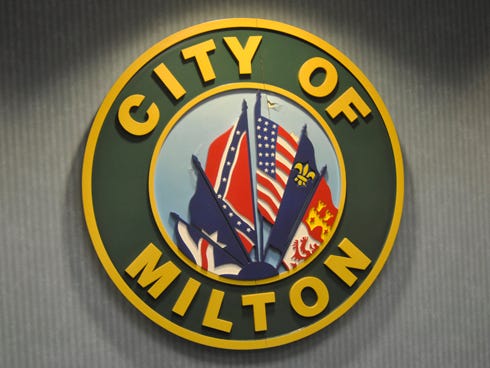 After much discussion in previous council meetings, the Milton City Council voted to repair both Alabama and Dixon Streets using city funds in Tuesday night's regular council meeting.  
Stemming from last week's executive committee meeting, the city's finance committee recommended financing the street repairs  through reallocating $152,820 budgeted for the Marina Balloon Payment and take an additional $97,180 out of the city's general fund reserves in order to provide $250,000 for the street projects.
In the executive committee  meeting, Council member Alan Lowery was the lone vote against the proposed streets. Lowery said he was in favor of repairing Alabama, however felt other city streets are in greater need of repair than Dixon.
Since Lowery voted against the option in the executive committee meeting, the item was brought before the regular council meeting as a separate item from the consent agenda.
Lowery reaffirmed his stance on Tuesday night.
 "I would like to say one more time, I have issues with us doing Dixon Street," Lowery said.  "According to the city report we had…there are 77 streets that are in poor condition and I don't believe Dixon Street should be our first street to be repaired."
Council member Jimmy Messick, who serves as the chairman of the finance committee,  said earlier council discussions included potentially adding Starhill Drive as a priority, however the cost effectiveness of repairing Dixon made it a more financially feasible option. 
 "Starhill (Drive) is in pretty bad shape, but it costs a tremendous amount more than Dixon," Messick said. "So we put Dixon in there because it connects with Alabama and also the cost of it is relatively smaller compared to the others."
Although Mayor Wesley Meiss agreed with Lowery's stance on Dixon Street,  however Meiss hopes more road work is on the way in the near future.
"I think what this does is that it sets a nice precedent for the city council and the precedent is that you try to do something," Meiss said. "As we go into committee meetings moving into the early fall…and start looking at next year's budget in the next fiscal year, we really need to think about budgeting some funds and picking some streets out."
 In order to help prioritize which streets need repaving and repair, Meiss also suggested council members get insight from citizens living within their wards and potentially having community meetings allowing citizens the opportunity to voice their opinions on the matter.
City Manager Brian Watkins said the road work on both streets should begin within the next four to five months.
This article originally appeared on Santa Rosa Press Gazette: Milton:City will repave Alabama and Dixon Streets