Milton Tractor Supply hosting pet adoptions for pet appreciation week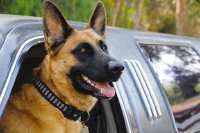 The Tractor Supply Co. store in Milton, FL will host activities for families and their pets, including pet adoptions, Saturday, Sept. 19 as part of Pet Appreciation Week. Held September 16 through 20th , Pet Appreciation Week or P.A.W. is Tractor Supply's annual event to celebrate pet owners and their furry friends.
"Pet ownership is exciting and has a lot of emotional and physical benefits, but it also bears responsibility, too," said Anthony Conquist, manager of the Milton Tractor Supply store. "Pet Appreciation Week gives us an opportunity to partner with incredible organizations and talk with families about the joy of owning pets, while also providing them with the tools they need to do it right."
As part of the main event on Saturday, September 19, Tractor Supply will feature pet adoptions, demonstrations on pet nutrition, drawings for $200 worth of gift cards, and giveaways, including a tennis ball and pet food mats while supplies last.
All Pet Appreciation Week events are open to the public – and pets – and will take place at Tractor Supply at 6531 Caroline Street in Milton. In addition to finding good homes for dogs and cats, Saturday's adoption events will also raise awareness of the importance of spaying and neutering pets and provide information on proper pet care and nutrition.
Several activities will take place during the main event, including 4health ResourceCenter, Animal Training and Pet Adoption.
Community partners for this year's Pet Appreciation Week include Boy Scouts September 19 and 20 on site at 10 a.m. 
                Safe Haven Rescue                 September 19 and 20 on site at 10 a.m. Contact the Tractor Supply store at 623-3847 for pet adoption details and other planned activities. For more information on Pet Appreciation Week visit Facebook.com/TractorSupplyCo or TractorSupply.com.
This article originally appeared on Santa Rosa Press Gazette: Milton Tractor Supply hosting pet adoptions for pet appreciation week