Milton pharmacist celebrates 40 years in medicine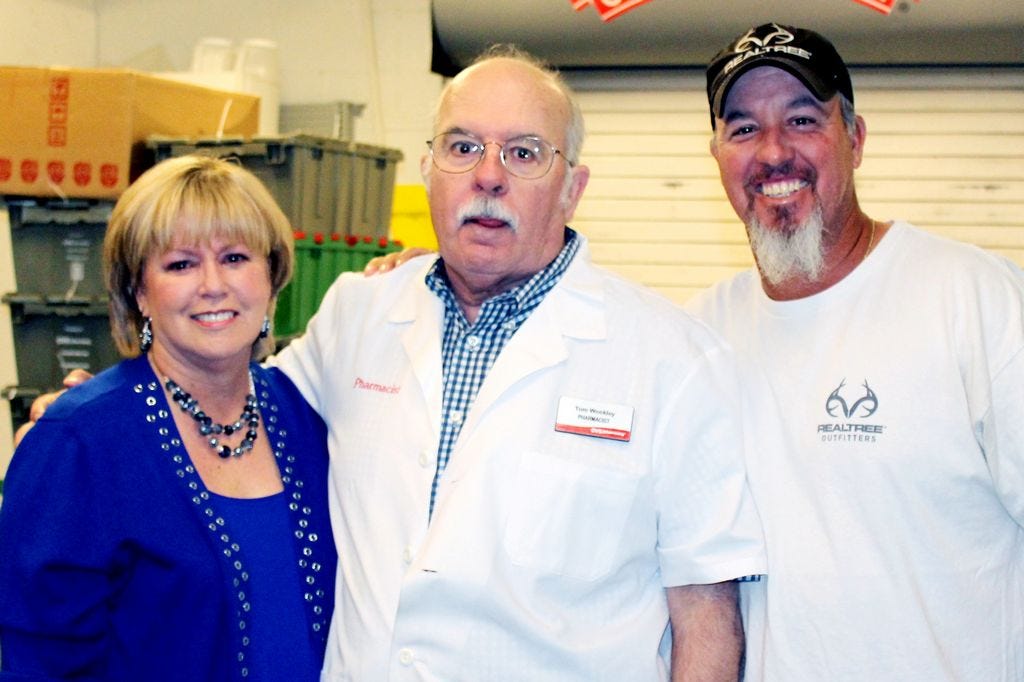 MILTON — Many people picking up prescriptions have known CVS pharmacist Tom Weekley for 40 years.
That's how long he's been in the business and, on Monday, his coworkers and family members celebrated the milestone at CVS in Milton.
Weekley's wife, Patsy, said generations of people know her husband. She said they sometimes come up to him and say, "You may not remember me, but you used to give me a lollipop when I'd come."
That could have been at one of the two locations he's served.
Patsy said her husband started his pharmacy in the Gateway Plaza in 1976. Their next location was on Berryhill. Ten years ago, she said, CVS purchased the Weekley pharmacy and he's been with the company since.
Life was in transition for Tom's family when CVS offered to purchase his business. He said his wife wanted to do some traveling with their son, golf sensation Boo Weekley, and having more grandchildren demanded more time. On the business side, he said, changes to HMOs and insurance reimbursement added to his workload.
"It was time for change," Tom said.
Tom Weekley said CVS bought three pharmacies: his own, the Charles Pharmacy and Neal Enfinger's pharmacy, where CVS now sits.
While Tom said some customers weren't happy their pharmacist moved to a chain store, he said each pharmacist brought a number of their own customer families to the single location.
He told the story of his district manager, John Whitfield, during the move from his place to his current CVS location. Tom said one patient's $100 in insulin went missing, so Whitfield took care of it for her.
While Tom emphasized the pharmacy's team collaboration, Whitfield said Tom has been instrumental in the store's success.
 Because of him, the location has had "to expand on two occasions," Whitfield said. "… People come here because of him, (and we're) very appreciative of that."
This article originally appeared on Santa Rosa Press Gazette: Milton pharmacist celebrates 40 years in medicine