Milton native moves to California to start music career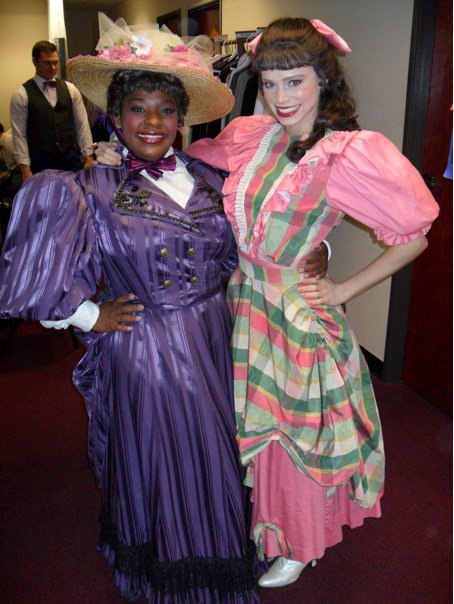 Ami Gussie Russ, a graduate of Milton High School, class of '04, left the banks of the Blackwater River to pursue a career in country music in Anaheim, California as part of the non-profit group, The Young Americans. On October 24, at 9 p.m. (10 p.m. EDT), Russ will have her EP release party via www.concertwindow.com.
At 9 years old, well before being in theater and choir at MHS, Russ said she was interested in being a country singer. "I was at my granny's house watching the country music countdown, when "Till You Love Me" by Mrs. Reba McEntire came on. I knew then and there that's exactly what I was meant to do. Country is where I feel most at home musically. I do love all genres of music. Don't get me wrong, but I will always be country at heart." Unlike many artists who venture across genres, Russ said she's looking to do something a little more traditional with a mix of bluegrass.
By her account, Russ had a normal high school experience. "I wasn't the prom queen by any means, but I had a small group of friends that meant the world to me," she said. Russ also described herself as a "theater-choir kid" aided by her choir teacher Anthea Amos and vocal teacher Darlene Mosley. "They wanted to provide as many opportunities as possible for us to perform. We made a yearly trip to different places and my favorite was the trip to Tennessee. We sang at several different places. My favorite by far was the Grand Ole Opry Hall of Fame." Russ said the choir also performed at the high school, and middle and elementary schools.
Russ said, "My mom has always been the driving force behind everything I do." She said her mom took her to an Atlanta audition for American Idol and later drove her to the airport when she set off to California. "I still remember driving to the airport; it rained like never before that day. I was an absolute wreck the whole way there. Mom managed to get me to the terminal; I was just about to turn back when she wiped my tears, hugged me and said I had to go. She reassured me my family and town will always be there. She knew if I didn't go I would regret it."
Moving to California wasn't easy. Russ said on the plane the other passengers tried to cheer her up. "I plugged in my free airplane headset, and as cheesy as it sounds the song "Break Away" by Kelly Clarkson began to play. At that moment the clouds seem to part, and I knew I made the right decision. Moving to California by far was the bravest thing I've ever done." She said just this move gave her the confidence to take on any other challenge. Still, the culture shock took some adjustment. "I remember a lady getting upset when I responded to a question her with "yes ma'am." It went beyond just cost of living for me; it was the difference in way of life. Things at home are way simpler and things move just at an easier pace," she said. A 90 mile an hour van ride from the airport didn't help matters either.
According to the organization's manifesto, The Young Americans is a charitable organization dedicated to the promotion of understanding and goodwill among people throughout the world through music, dance, performance, academic education and cultural interaction among Student Members and their audiences. Russ said she moved to California to join the group and for 5 years performed and taught with them around the world.
"I've performed on stages in England, Ireland, Scotland, Germany, and Japan as well as many stages in the US." Russ said she had considered music education, but after being accepted by the Young Americans, she knew she wouldn't be satisfied if not performing.
Russ also spoke about taking on the extra challenge of writing music in addition to singing. "When I heard "One Way Ticket" by Leann Rimes I knew then I wanted to write too. I knew I wanted to write a song that made people feel exactly how I felt every moment. I find that if I write from an honest place people will listen. 'Searching for Love' was just a page out of my diary. I finally got around to putting it to music."
The most important thing to Russ with her music she said is staying connected to her fans. "I don't want any sort of velvet rope mentality to keep people away," she said.
After the October 24 show, Russ said she'll be performing at the Anaheim Farmer's Market and Anaheim Christmas Tree Light Ceremony. Russ said, "I have a few collaborations with local artists in the works, and if things go according to plan, I will be performing in the Milton area after the start of the new year." For the October 24 show, Russ' name appears as one word: AmiGussieRuss. Ticket prices start at $1, and listeners are then encouraged to pay what they can. Russ will receive 70 percent of the proceeds and tips. Those who are generous enough to tip $15 or more will walk away with gifts to commemorate the occasion. Mark the date and log on to support a homegrown singer.
This article originally appeared on Santa Rosa Press Gazette: Milton native moves to California to start music career