Milton, Gulf Breeze, Navarre made the list of cheating communities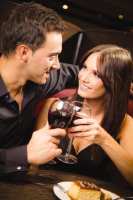 Do you know someone who has been unfaithful to their spouse? According to a new study from the website RoadSnacks, you probably do.
Following last year's hack of the cheating website Ashley Madison, RoadSnacks compiled a list of the top 10 Florida cities with the most Ashley Madison accounts based on a per capita basis.
Eglin Air Force Base topped the list at No. 1, with 15.4 percent of the base's population having an account on the website whose slogan is "Life is short. Have an affair."
Eglin was not the only local area that made the top 10 as Destin was close behind at No. 3 with 9.8 percent of the city's population having an account. Navarre was number 62 with 5.1 percent, 63 Pensacola with 5.1 percent. Gulf Breeze was number 90 with 4.5 percent. Milton made the list at number 162 with 3.5 percent.
To continue reading click here
This article originally appeared on Santa Rosa Press Gazette: Milton, Gulf Breeze, Navarre made the list of cheating communities