MHS alumnus, former professional football star, finds success in Cali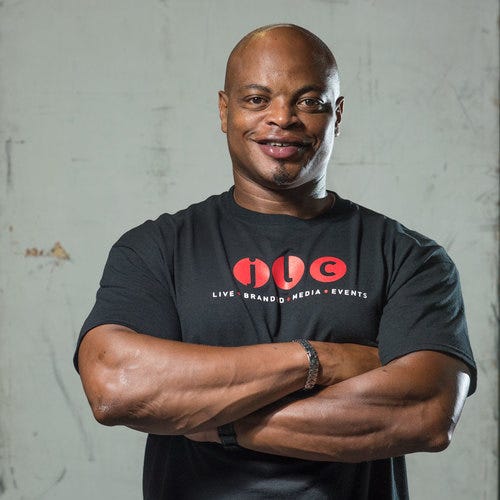 MILTON — Milton native Reggie Slack, a former professional football player and pizza franchise owner, has found his latest calling: video production.   
Slack lives in California, creating live productions for his longtime friend and fellow Milton High School alumnus, Joe Lewis, at the Joe Lewis Company.
 "It had been something we had talked about in the past, about me coming on board, and the timing was finally right," Slack said. "It was something I always wanted to try, and I have been very pleased with my decision.
The company's website lists Slack as manager of its sports entertainment department. However, Slack said he and other employees "wear many hats" to make sure productions go off without a hitch.
The company has worked on the Academy Awards, creating the Super Bowl City for the recent telecast of the Super Bowl in San Francisco, along with many other events. Upcoming projects include the NCAA Final Four and the NFL Draft in Chicago.
"This is our busy time of year: from now until October," he said. "We got our hands in a bunch of different projects."
Slack credits his success from lessons he learned from former MHS football coach Hurley Manning.
"He taught me a lot of important lessons in life, like never giving up, along with having tough skin, being tough and always persevering," Slack said.
While playing quarterback under Manning until his graduation in 1986, Slack's talent earned him a scholarship to Auburn University.
"I was there from 1986 to 1990 and, over the course of that period, we won three SEC championships, beat our arch rival (University of) Alabama four years straight," Slack said.
In his senior year at Auburn, Slack was named the Most Valuable Player during the Hall of Fame Bowl in Tampa.
After college, Slack was drafted by the Houston Oilers and served as a backup quarterback for three years. However, Slack spent most of his professional football career with the Canadian Football League, in which he played 10 years before retiring in 2003.
Following football, Slack bought and operated Papa's Pizza, a franchise in Perdido Key, and sold it after four years.
In addition to working in the financial industry, including a brief time with Merrill Lynch, Slack attempted to open a pizza restaurant in Navarre. However, the business was short-lived.
"Unfortunately, I don't think the area was ready for the type of product we were offering," he said. "I don't think the population density was quite there and I ended up having to shut that place down after a year."
But Slack, who's always been close friends with Lewis, found a new opportunity.
One he was able to accept, and become successful at, due to Manning's inspiration all those years ago.
And advice he instills in his children today.
Yes, "We learned a lot about hard work and perseverance," Slack said. 
This article originally appeared on Santa Rosa Press Gazette: MHS alumnus, former professional football star, finds success in Cali