Meet Sophie at SRCAS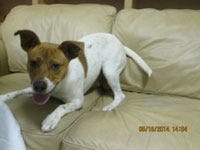 My name is Sophie. I am a Female about 1 yr old. I want to be your life long friend.
So come on down to the Santa Rosa County Animal Shelter and see me for yourself. I have lots of love to give and can snuggle beside you and keep us both warm. Don't forget to bring some friends with you so they can adopt one of my friends also. 
Sincerely,  Sophie
This article originally appeared on Santa Rosa Press Gazette: Meet Sophie at SRCAS