Mattie turns 100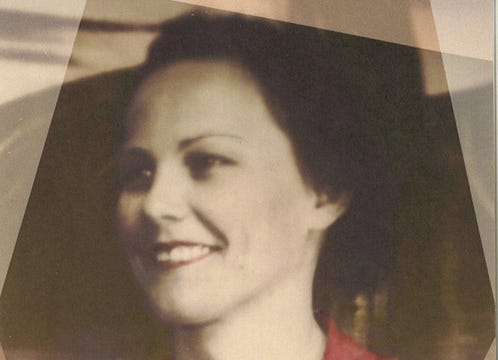 Mattie Ruth Messer was born January 13, 1914 in Samson, Alabama to Gabe and Versie Parker Messer .  She lived and worked on a farm with her parents, five brothers and two sisters.  During the early part of her life she helped her older sister Ola, who returned to the homestead with her three daughters after the unexpected death of Ola's husband.
These three young girls became like Mattie's own children.  Mattie attended open pond school where she excelled in sports.  This love of movement and exercise became a lifelong lifestyle.   At the age of sixteen Mattie joined the working world as an operator at a large shirt factory.  She saved her money and purchased the first model a Ford in the countryside. 
She used this car to haul workers to the shirt factory, thus helping the family. She had a busy life working, going to church gatherings, socials, singings, and other events in the community
In 1936  she met a young man at a church singing,  Alton Alexander Harrison, affectionately known as Bud by his friends and family. He became her beau, and on December 28, 1940 they married.
 Bud spent three years in service and Mattie worked, eagerly awaiting his return.   Bud returned from service and for several years they both worked in the shirt factory in Geneva Alabama. In 1946, a baby girl Marolyn Anita was born, and a few months later they moved to Opelika, Alabama so her husband could complete his college degree at Auburn University. During this time Mattie was a full time wife and mother.
In 1948 they moved to Jay, Florida where Bud had been offered a job teaching vocational agriculture.  They joined First Baptist Church and engrained themselves in the fabric of this small community where Mattie still resides.
During the remainder of her life Mattie devoted all of her time to her faith, her family and her community.  She taught in the children's department in Sunday school and training union.  For many years every Tuesday when she drove to Brewton for Marolyn to take piano lessons, she would use the wait time to prepare and study her Sunday school lesson.  Her encouragement and persistence enabled her daughter to excel in music.  In 1953, another child Kerry Alton Harrison was born. 
Mattie continued to focus on her family, but as the children grew, she began her extensive volunteer work.  She served as 4-h club leader, even attending camp as a food service worker.  She also volunteered as a food service helper in the lunchroom at Jay Elementary. At one point Mattie actually drove a school bus, where all the students said she ran a "tight ship". 
There was no misbehaving on that bus, but they all loved her.  Just proof that respect breeds enduring love. They continue to tell stories of what happened on that school bus.
As her children became more independent, she continued to enjoy sports, attending her sons little league games, playing on women's softball teams, leading exercise and aerobics in different places.  Even in her 80's she drove herself and her husband to the YMCA in Brewton every morning for swimming. Her hobby was cooking and gardening.  
The freezer and canning closet was always full of fresh vegetables, and her sugar cookies have always been the favorite of everyone who ever tasted them.
As Mattie entered the empty nest phase of her life, she volunteered everywhere she could to stay active.  At the Jay Hospital, beginning in 1982, she was a 100 hour volunteer several years.  As a member of the Council on Aging, she regularly drove older people to get groceries, or to the doctor, visiting the homebound patients and taking them books, running errands.
For several years, she took four ladies to lunch one day a week. She served as site manager for the Jay congregate meals site.  Eventually she was honored as the volunteer of the year for Santa Rosa County.  During this time she also worked at the polls during elections.
As Mattie aged, she became a regular member of the jolly jays , a senior group at Jay First Baptist. They visited nursing homes, went on outings, and just had lots of fun.
In 2004 her husband of 64 years passed away, and because she did not want to live alone, Mattie moved into a suite especially for her in the home of her daughter and son-in-law.  She lived there for 5 years, continuing to drive until the day she hit the pillar of the garage and handed her son in law her keys. 
After that it was "driving miss Mattie" as caregivers assisted in getting her to and from all the places she wanted to go.  She hardly slowed down, continuing to harvest turnips, and other vegetables, and cooking as she could.  She continued to attend church every Sunday, and eat with the sixty plus senior citizens every day at lunch.
She made several trips sightseeing, and enjoyed family reunions each year. Eventually, she needed 24 hour assistance but decided she would give assisted living a try.  She moved to Forsyth House in January of 2009, knowing that an assisted living was planned for her hometown soon.  In November of 2011 she was the 3rd resident to move into The Terrace in Jay. 
She could now see more of her family, friends and neighbors.  She loves for her children and grandchildren to visit.  Her days are filled with good food, bingo, dominoes.  Miss Mattie through clean living, her strong faith, and her fortitude for pushing forward has finally become one of the few to reach 100 years of age. 
This article originally appeared on Santa Rosa Press Gazette: Mattie turns 100