Masters Champ Bubba Watson buys into Blue Wahoos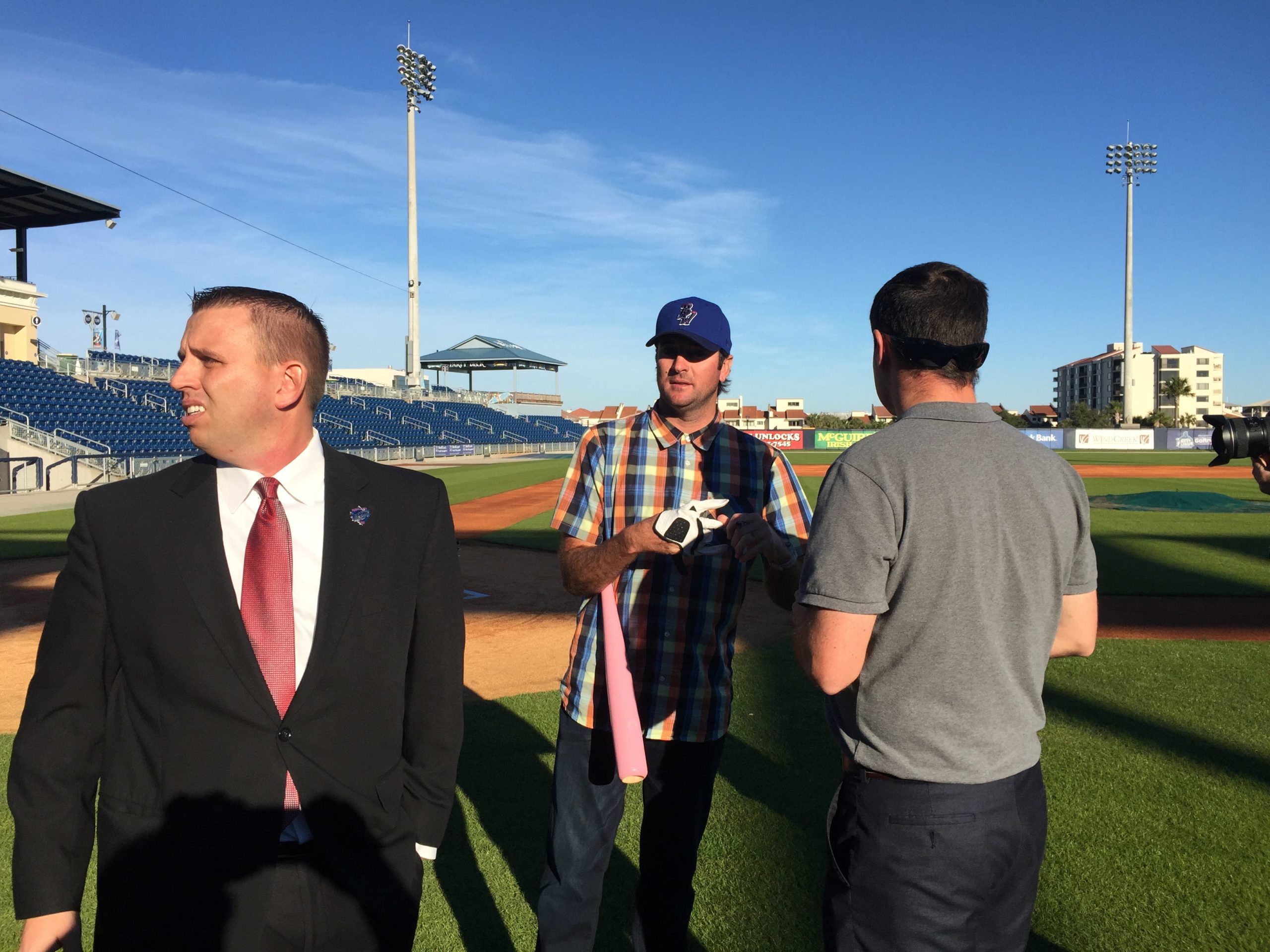 When the minor league team in Pensacola dons one of their baseball caps the initials "BW" signify their team name, Blue Wahoos. Now those initials have a dual meaning.
Monday afternoon Pensacola Blue Wahoos President Bruce Baldwin announced at home plate of Pensacola Bayfront Stadium that Bagdad's very own Bubba Watson is now a minority owner of the team.
"Ever since I went to my first Blue Wahoos game I have been a big fan of the team," said Watson, who is a two-time Master's Champion. "I love the atmosphere, it's such a great place to go with friends and family. I wish Pensacola had a team like this when I was growing up.
"There's something special about pulling for the hometown team. It's great that Quint and Rishy (Studer) were willing to let me be a part of it and I look forward to a long and exciting partnership with them."
In honor of Monday's announcement the Blue Wahoos, the Double-A affiliate of the Cincinnati Reds, are already co-branding merchandise involving Watson.
One of those items is call the Bubba Dub Grilled Cheese sandwich, which is a double decker grilled cheese sandwich with crispy has browns inside. The other change is that the restaurant and bar behind home plate is now named "Bubba's Sand Trap.
Watson has been a part of the Blue Wahoos before as he has thrown out first pitch and greeted the Wahoos players and fans in 2012 and 2014, which followed both of his Master's wins. In 2014, Watson even wore his green jacket while standing on the pitcher's mound.
"We are thrilled to welcome Bubba Watson into the ownership and to have Bubba's family, Angie, Caleb, and Dakota, as part of the Wahoos family, enjoying the Wahoos life," said Quint Studer, the majority owner of the Blue Wahoos with his wife, Rishy. "Over the years many have been touched by Bubba beyond golf. His work to make life better for others is what attracted Rishy and me to him.
"Bubba sends a message of belief and giving, always striving to be the best he can be. Rishy, Bubba and I all view the Wahoos as an investment in improving the quality of life for people. Together we will continue to create great experiences for all ages, make lifelong memories for our fans, be a super place to work and now, with Bubba's leadership,. We will gain a national and international awareness for the Blue Wahoos and Northwest Florida."
During the announcement, Watson addressed how his late father Gerry helped him develop a love for the game of baseball.
"My dad wanted me to become the next Don Mattingly and play for the New York Yankees," said Watson. "We would play catch outside and I played baseball until I was around 14 or 15, when I got to high school at Milton and he made me make a decision between baseball and golf.
"I chose golf and now the rest is history."
Watson has several causes which are dear to his heart and he hopes this will be a way for him to bring those to the forefront more.
"Angie and I are big on adoption as we just adopted our second child, Dakota, recently and I am also big on trying to help the homeless," Watson said. "I want to be very community minded here at home and I hope in some way we can help with those issues here through our efforts with the Blue Wahoos.
"I just hope Quint doesn't get tired of my crazy ideas because I have been known to have a few. One thing I know for sure is you won't see me out there in a uniform playing."
Watson acknowledged he had already asked and because he is a part owner of the team he is not allowed.
After Monday's announcement Watson delighted the over 500 in attendance by hitting a few golf balls with his famous pink driver as well as using a pink Louisville Slugger to hit a few pitches from Jamie Walczak.
April 9th will kick off the 2015 regular season for the Blue Wahoos at Pensacola Bayfront Stadium against the Biloxi Shuckers, a new team in the Southern League and minor league affiliate of the Milwaukee Brewers. The first pitch will be at 6:30 p.m. and tickets are currently available through the Blue Wahoos box office.
This article originally appeared on Santa Rosa Press Gazette: Masters Champ Bubba Watson buys into Blue Wahoos