Majors Home Improvement and United Way seeks a family in need of home repair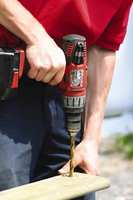 Majors Home Improvement, in partnership with United Way Santa Rosa County, is seeking a family in need of home repair projects.  Majors is launching its second annual community initiative, "Majors Helps" inviting residents to advocate for others by submitting stories for a family in need.  Qualified projects include repairing or replacing windows, doors, hurricane shutters or vinyl siding or minor kitchen and bath repair. To advocate for a family, you can fill out an entry form at www.majorshomeimprovement.com/majors-helps  Deadline for entry is March 10, 2015.
United Way Santa Rosa County and Majors Home Improvement will partner to narrow requests to 3 nominees by March 15.  The candidate will be posted on Facebook for the community to choose the project from March 15 – March 30.  The winning entry will be chosen by the most Facebook likes.  The community can follow the project transformation at www.facebook.com/MajorsHomeImprovement or www.facebook.com/Unitedwaysrc.
Majors Home Improvement is dedicated to giving back to the community.  Majors participated in WEAR TV 3's Oprah's Big Give: Gulf Coast which supported families with United Cerebral Palsy and ARC Gateway.  "We are definitely on board to do this project again this year.  Our team is proud to help out in our community," states Mike Majors, President of Majors Home Improvement. 
"We are excited to be able to be a part of this project again this year. Last year's home improvement project was a huge success," shares Anja Machado, Director of Marketing & Comm., UWSRC. "At United Way, we stress the importance of speaking up and advocating for people in need, and thanks to so many people that spoke up, we were able to all come together and complete a home improvement project for a family in need."
This article originally appeared on Santa Rosa Press Gazette: Majors Home Improvement and United Way seeks a family in need of home repair