Lumberjack Festival draws crowd, competition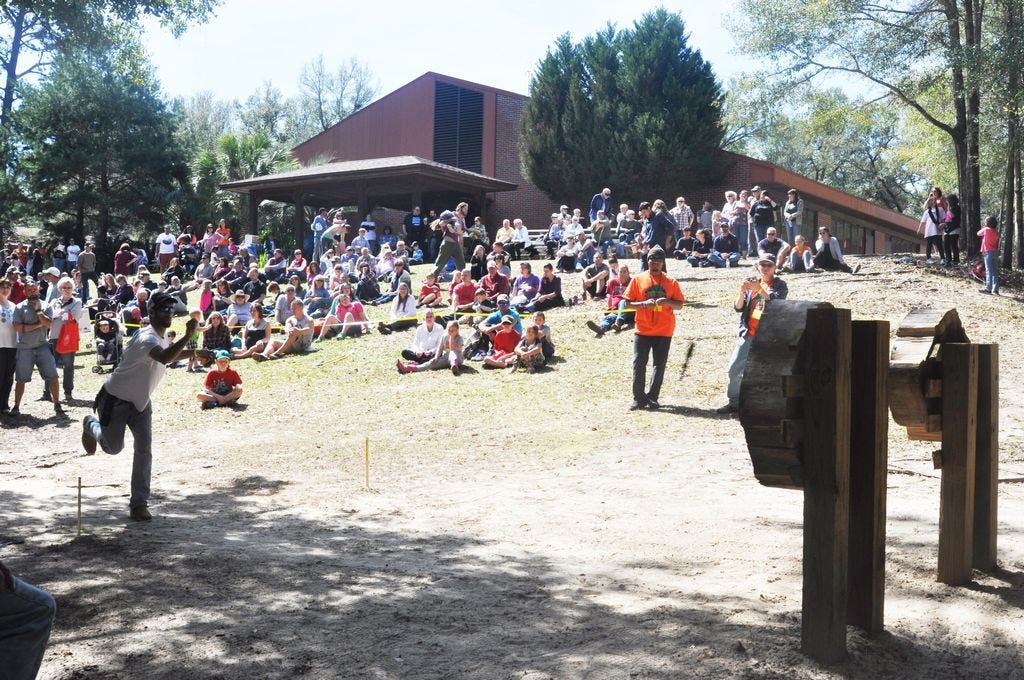 More than 1,000 were estimated in attendance during Saturday's annual Lumberjack Festival, according to Dr. Anthea Amos, the dean of the Pensacola State College Milton campus. She believes residents enjoy attending the outdoor festivities.
"There were over 300 in the children's events alone and that is when this whole hill was packed with people," she said.
In addition to the children's activities, which consisted of face painting, crafts and games, the adults were invited to put their outdoor skills to the test in competitions ranging from axe throwing, sawing to caber tossing and log rolling.
Amos said this year's competitions saw an increase in participation.
"We had over 40 participate this time in the knife and axe throw, which is huge," she said. "We normally only allow 16, but we had so many people show up that we had to extend the list."
With the success of the turnout for the event, Amos is considering options to bring more to next year's festivities which will require more volunteers.
The campus was also raising funds from concessions to benefit the American Cancer Society's Relay for Life and proceeds from vendors to a fund a scholarship along with tents and other camping supplies for the PSC Outdoor Club during their regular primitive camping trip.   
The festival also featured displays from local agencies, organizations and businesses.
Among the 30 vendors was Amanda Konsavag from Andalusia, Alabama who was selling homemade jewelry at the festival. Konsavag regularly travels to Florida to sell her jewelry and is considering returning to the event next year.
"I thought it was a nice day for the festival and I am a teacher, so anything to support a school or college, I'm into it," she said.
28th Annual Northwest Florida Forestry Conclave and Lumberjack Festival Winners
MEN'S  OVERALL  GRAND PRIZE WINNERS  
1.            Mike Mueller
           2.    Jack Boatner
           3.    Greg Calloway and Nathan Moores
WOMEN'S OVERALL GRAND PRIZE WINNERS 
           1.   Cortney Stotts
           2.   Emma Bodie
           3.   Tracy Zorn
Individual Divisions
GRAND CABER TOSS
1.        John Hollifield
2.        Ed Meadows
MEN'S CROSS CUT
1.        Kevin Smith & John Drew
2.        Nathan Moores & Jack Boatner
3.        Nicholas Montgomery & Kyle Leake
  JACK AND JILL CROSS CUT
1.        Mike Mueller & Emma Bodie
2.        Jack Boatner & Tracy Zorn
3.        Kevin Smith & Anthea Amos
WOMEN'S CROSS CUT
           1.   Tracy Zorn & Emma Bodie
           2.   Cortney Stotts & Anthea Amos
           3.   Tara MacLees & Stacy Baerresen
COMPASS AND PACING- WOMEN'S
1.   Cortney Stotts
2.   Brandy Clifton
3.   Hannah Iwanowycz
COMPASS AND PACING- MEN'S             
1.        Daniel Iwanowycz 
2.        Mike Mueller
3.        Kyle Shertzer
BOW SAWING- WOMEN'S
1.          Teri VanDenBerg
2.          Cortney Stotts
3.          Emma Bodie
BOW SAWING- MEN'S
1.          Jack Boatner
2.          Nathan Moores
3.          Daniel Stotts
COMPASS AND PACING- MEN'S             
4.        Daniel Iwanowycz 
5.        Mike Mueller
6.        Kyle Shertzer
COMPASS AND PACING- WOMEN's
1.   Cortney Stotts
2.   Brandy Clifton
3.   Hannah Iwanowycz
STANDING CHOP
1.    Albert J. Berg
2.   Albert T. Berg
3.   Nathan Moores
PULPWOOD TOSS
1.        Mike Mueller
2.        Greg Calloway
3.        Justin Evans
LOG ROLL
1.        Greg Calloway & Kyle Shertzer
2.        Albert J. Berg & Albert T. Berg
3.        Jack Boatner & Tom Hunt
KNIFE THROW
1.        Mike Mueller
2.        Justin Evans
3.        Dominic Tascarella
AXE THROW  
1.        Gene Hall
2.        Justin Evans
3.        Dominic Tascarella
KNIFE THROW-  YOUTH DIVISION            Name and school
1.        Ryan Young                                  Holly Navarre Middle School
2.        Hannah Moores                             Home school
3.        Kade Boyd                                     Ransom Middle School
CROSS CUT- YOUTH DIVISION                                                      Name and school
1.        Austin Peterson & Joel Peterson                                  Trinitas Middle School
2.        Kade Boyd & Kyle Boyd                                       Ransom Middle & Tate High School
3.       Eugene Hall & Brandon Hood                                        Paxton & Tate High School
This article originally appeared on Santa Rosa Press Gazette: Lumberjack Festival draws crowd, competition