Local woman helps hometown in Philipines following typhoon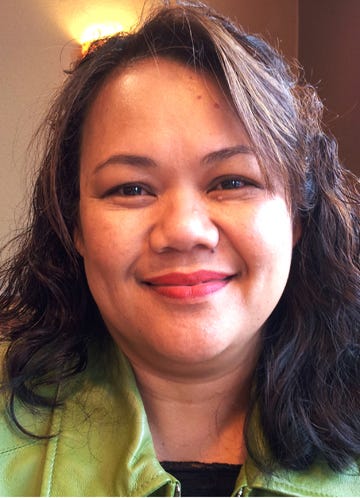 Many remember the destruction of local hurricanes, how difficult it was to function without electricity, gas, and for some, water.  While some of us watched the devastation typhoon Haiyan wrought on the Philippine Islands and recalled our own problems, there are a few who have family and friends experiencing the catastrophic wreckage and want to do something about their need.
Editha McNutt is from the Phillipines. She says she wondered if anything within her hometown of Burgos would be left after the storm surge receded.  After two days, she received a call from her sister and McNutt said, "It was like a gift."  She found out everyone within her hometown survived but all of the homes were gone.  Government offices were used as storm shelters to keep people alive. She said the government was kind enough to have food and water stockpiled but will not have the funding to rebuild.
"My heart is to rebuild," says McNutt. 
She is no stranger to helping her hometown when needed.  McNutt made three previous trips to the Philippines to serve her native people. The first trip was in 2007 when a local church needed serious repair.  She was supported by her late husband, church, family, friends, and clients from her job as nail specialist, who gathered money, over the counter medical supplies, clothing and 80 back packs for children including school supplies, tooth brush and tooth paste and soap.
The second trip she brought seven water pumps to build public restrooms, male and female and two extra for water sources.  These restrooms were placed in Tangbo, San Mateo, and Burgos.  She also brought over the counter medical supplies and clothing.
On her last trip, McNutt was contacted by friends who explained a house used for college students burned.  Continuing with the same support system, she returned to her hometown to rebuild housing for young adults looking to forward their education.
She said she wants to continue her efforts and return next May to help with reconstruction.  "My prayer right now to help with more than just rebuilding their homes.  I'm offering a piece of land from my farm to build an evacuation shelter to save lives," says McNutt, "I want to be what God has planned me to be.  I do not want to be distracted.  God makes me strong.  I don't know where I would be without Him in my life."
Fundraising efforts are planned for the first of the year.  Donations can be made at Bay Area Vineyard Church at P.O. Box 4548  Milton, FL  32572.  For more information call 341-9797.
This article originally appeared on Santa Rosa Press Gazette: Local woman helps hometown in Philipines following typhoon