Local artists gather to share creativity and insight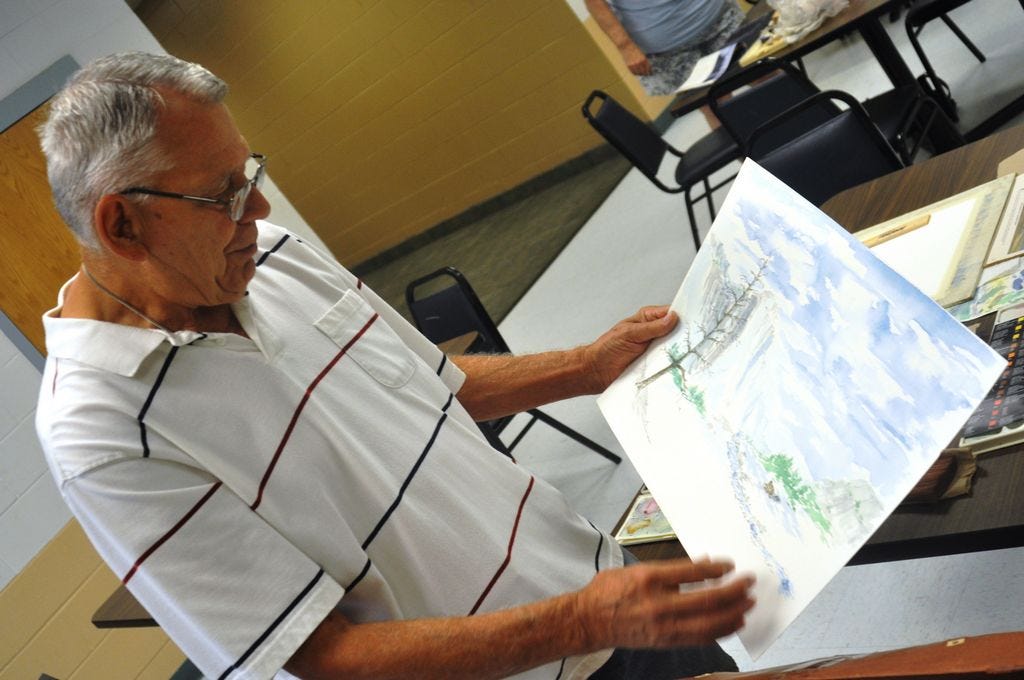 Every Wednesday local artists will gather at the GuyThompsonCommunity Center in Milton to not only work on their artistic creativity but also share their creative insight with each other. They work with a variety art forms from painting with water colors to crocheting.
 "What we do is that we help each other which is really nice," said longtime Milton resident Ray Rognstad. "We are always learning."
As an example, Rognstad said each painter could have a different approach when creating a still life piece of art.
"We would all look at it completely different," he said.
Rognstad said seeing the different interpretations and art forms is a visual treat.
"It's good way to enjoy the artwork," he said.
While Rognstad has a background in dealing with artwork and photography, others in the group are just exploring other art forms for the first time.
"I never went to school for art and there are things I could only get so far with," said Donna Evans.
Evans said the meetings will also provide a challenge in creating each art piece.  
"You want to see it come to life, you want to see if you can get the likeness right," she said.
Joyce Beasley said on average the community gathering will have around 12 to 13 people working on a particular piece of artwork. The community art group is not limited to any specific age range either, Beasley said. Area youth, including local teenagers, often come to participate in the weekly meeting, she said.
The gathering of local artists is also beneficial to residents who are new to the community.
"I moved here from Arkansas and (I) didn't know anybody and I found this group," said  Judy Housley       . "Joyce kept wanting me to come out and do art and I told her I didn't know how, but now I have a pastel painting hanging in the gallery. It's amazing."
Gallery reception
Housley and many of the group's artwork is currently on display at the DragonflyArtGallery in Milton throughout the month of August. A reception for the artwork, currently on display in the art gallery's feature room,  is scheduled for Friday, August 21.
Prior to joining the group, Housley said she had little experience with creating artwork. Housley said she has previously done knitting and crocheting artwork, but was inexperienced in painting and drawing.
"I was lucky if I could draw a stick figure," she said. "Now I am looking forward to it. I have made lots of friends at the community center."    
WANT TO GO?

WHAT:  Regular Artist Meeting

WHEN: From 8:30 a.m.- 1 p.m. each Wednesday

WHERE:  GuyThompsonCommunity Center, located at 5629 Byrom Street in Milton

COST: Free

WANT TO GO?

WHAT: Community Artist's Feature Room Reception

WHEN: From 5:30 to 7:30 p.m. on Friday, August 21.

WHERE: DragonflyArtGallery, located at 6815 Caroline Street
Want to Go?
This article originally appeared on Santa Rosa Press Gazette: Local artists gather to share creativity and insight