Krul and Bear lakes continue to bring outdoor enthusiasts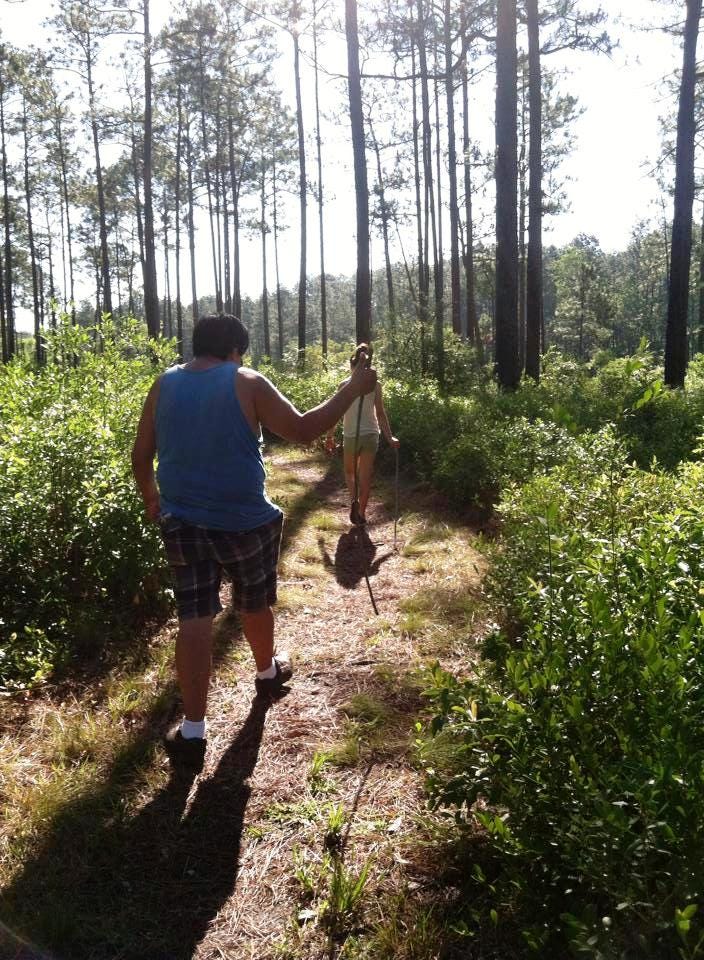 Although the hot summer time temperatures are in full effect, the temperatures have not kept campers or outdoor enthusiasts  from visiting Bear and Krull Lake campgrounds in the Blackwater State Forest of Santa Rosa County.
"Those are the two big ones," said Joe Zwierzchowski, the wildlife mitigation specialists with the Florida Forest Service. 
Despite the warm temperatures, Zwierzchowski said the two camp sites in Munson, remain busy during the summertime weekends.
"Bear Lake is a very shaded area," he said. "Krul (Lake) is where people go to cool off anyway."
 The Krul Recreation area features a 6 acre manmade lake, which is a popular swimming spot,  with water springs located on the north end of the lake. In between both Krul and Bear Lakes is the Sweetwater Trail which is a little more than a mile long featuring a suspension bridge over Sweetwater Trail and a gristmill.
 Retired Milton residents Robert and Caryl Kirk took their RV to several camp sites not only in the Blackwater State Forest but to other camp sites in the area.
"We do most of our camping at Karick (Lake) that is our favorite," Caryl said.
The couple is currently camping at Bear Lake said campsites see a lot more traffic on the weekends than weekdays.
Over this past weekend, Caryl said she saw several cyclists, kayak enthusiasts and fishermen visit Bear Lake.  
Robert believes the local camping sites are not well known to those visiting Santa Rosa County.
"All of these parks are very unique and sometimes I get the impression that the communities don't really want the outsiders to know about it," he said. "I don't think they advertise (the parks) that much."
Brian Stevens, who volunteers at the Bear Lake Campsite as a campground host, says the camp ground brings in a crowd especially on the holiday weekends like the Fourth of July or Memorial Day weekends.
"Usually we fill up to the max," Stevens said. "Krul has the swimming hole, where all you can do is swim, it will usually fill up first because it is hot and everybody is hot and they want to swim."
Stevens said the local camps brings outdoor enthusiasts.
"You get a lot of people who camp and bring their bicycles with them," Stevens said. "At different times we have running functions…we have environmentalists groups that come to walk the trail (and) bird watchers come out. I guess a majority of people just come out here to get away."
In addition to retired residents, young families and local military personnel, Stevens said the local campsite bring in a diverse group.
"It's a complete mixture of people; we see a lot of out-of-state people," he said.
When bringing the family out to camp, Prudence Caskey, a local 4-H agent, suggests parents should remember to bring all of the  basic necessities when going camping including bug repellent, sun block lotion and a first aid kit. She also recommends keeping their child busy for the duration of camping.
"You have to keep them occupied," Caskey said. "Bring a board game or a deck of cards."
Caskey said electronics have a limited battery life and besides going camping is to enjoy the outdoors not playing online games or checking their social media profiles.
She encourages parents to show their children the basics of camping whether fishing techniques, starting a camp fire or just simply exploring the outdoors along the nature trail.
Zwierzchowski encourages interested campers to call ahead in order to make sure enough camping spaces are available at each location, no reservations are accepted.     
This article originally appeared on Santa Rosa Press Gazette: Krul and Bear lakes continue to bring outdoor enthusiasts