KMS students use problem solving skills during 'CSI Whodunit'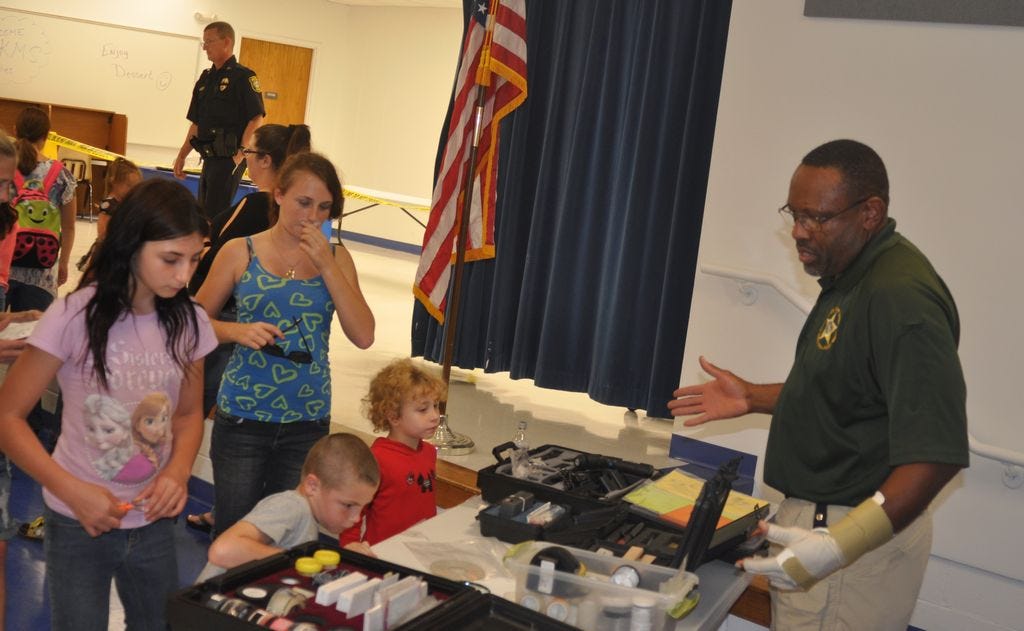 The students of King Middle School were tasked with using their problem-solving skills in order to find out who stole cookies, during the school's 'CSI Whodunit' Family night on Friday, which also allowed parents to see receive a little better insight into how the Milton middle school operates.
"Everybody is engaged and everybody is having fun," said event organizer Carol Spice, who also serves as the school's academic intervention specialist and parent involvement coordinator . "The thing I like the most, is that the kids and parents are interacting. They are reading together and they are thinking together."
KMS students had prior knowledge of the cookie theft through school wide video, which showed how the school's faculty came across the crime while introducing the four main suspects – Mrs. Bessie Big Bottom, Professor Peabody, Mrs. Heloise Hannigan and Mary Poppins.
Dawn Diaz, who recently moved to Milton from Michigan, used the 'Whodunit' event to see how her son's, Amelio Diaz, new school operates.
"It's good to see how things are run around here," she said. "This (also) gives us something to do as a family on Friday night."
With assistance from parents, students had to solve a few math problems before examining the crime scene located in the school's cafeteria then follow the footprints to a school lab to further examine the evidence and questioning each of the suspects before placing their vote towards the individual they believe committed the crime.
Bryce Padgett, a 6th grade student at KMS, was one of many students to correctly identify 'Mrs. Big Bottom' as the culprit behind the theft.
Bryce said he was able to identify the culprit through observation.
"(Mrs. Big Bottom) sounded the most guilty. She kept trying to involve everybody else and not talk about her point of view," Bryce said.
Annette, Bryce's mother, said the event was "informative, educational and fun."
In addition to culprit revealing themselves before the event's end, attendees were also treated to the missing cookies which were brought back by 'Big Bottom,' portrayed by one of the school's guidance counselors, Kelly Lee.   
This article originally appeared on Santa Rosa Press Gazette: KMS students use problem solving skills during 'CSI Whodunit'