Junes Ates Arena holds celebration Friday and Saturday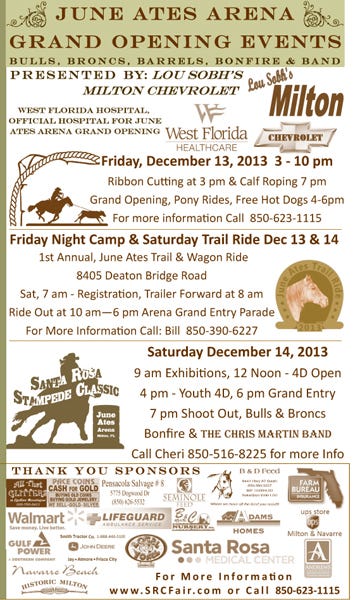 Bring your boots!  Final preparations on the June Ates Arena are being set for the 3 p.m. ribbon cutting and grand opening this weekend, Friday, December 13.  Free hot dogs and pony rides begin at 4 p.m. Santa Claus will arrive at 6 p.m.
The June Ates Arena is equipped with removable bleachers, vented ceiling, and organic flooring consisting of clay and eight inches of Santa Rosa County top soil.  Santa Rosa County Commissioner Bob Cole says after consulting a local study the top soil is the "best floor in the area for agricultural events."
The grand opening of the June Ates Arena is set for December 13.  According to County Commissioner Bob Cole, it's been a long time coming.  Ten years, actually.
The 200 x 300 ft. debt-free building was designed to be a multi-purposed facility for many diverse special events.  Cole says he saved monies for ten years through recreational funds after being approached by citizens in East Milton after being elected. 
He says it made sense to him as being an agricultural based county with no place to have an Ag show.  "But it can be used for many things.  If you want to have a car show, it will be available," he says.  However, with cost of renting the facility he says if a non-profit organization wishes to use the facility there will be a minimal fee.  A for-profit company will pay more because the arena will be self supporting.
"It is also a disaster recovery facility for community resilience," says Kyle Holley, development director for United Way.  Holley says after the 2004-5 hurricane season, FEMA funded Long-Term Community Recovery. In doing so it called for these type of buildings to be a staging area for post disaster supply. 
"It all came together," he says.  Holley says the arena is specifically positioned within the central part of the county with close proximity to the interstate; whereas two tractor-trailers can run a supply line when a catastrophe happens.
The facility is dedicated to June Ates, a native of Santa Rosa County and past 4-H leader and former president of the National Barrel Horse Association.  Rick Paschal of Ameriprise Inc. says her "forward-thinking spirit" and her long term dedication to children and agriculture seemed appropriate. 
Paschal says the project was built with economic development in mind.  The facility's central location to the beach, woodlands, farms and town helps to compliment the recreation activities within Santa Rosa County.  "For a very long time we haven't gotten our fair share of tourism money in our area," he says.
Holley says tourism bed-taxed dollars increased 18% this year, most due to special events promotions.  He says special events are the cheapest, targeted way to encourage out of town investors to invest in Santa Rosa County.  "There is a return on those investments," says Holley.
This article originally appeared on Santa Rosa Press Gazette: Junes Ates Arena holds celebration Friday and Saturday